Russ Curry, Ministry of New Media
Swiftmile, the pioneer in micromobility charging, has teamed up with Place Exchange, the leading supply-side platform for programmatic Out of Home media.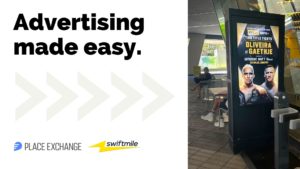 Swiftmile deploys light electric vehicle (LEV) charging platforms for scooters, e-bikes, and e-mopeds, coupled with a DOOH network reaching a highly attractive on-the-go audience.
We are told that this collaboration will play a crucial role in expanding Swiftmile's programmatic options for media buyers seeking to purchase their premium placed-based inventory from any of the leading demand-side platforms (DSPs) that are integrated with Place Exchange.
"We're excited to work with Place Exchange," said Joel Martin, VP of DOOH at Swiftmile. "As one of the most impactful companies in the Out of Home advertising industry, we are confident they can help take our media offering to the next level by making it easy for advertisers to integrate our inventory into their omnichannel plans."
Swiftmile's eye-level digital screens serve as vehicle charging destinations instead of just panels that are passed during a commute, and capture high levels of attention from a valuable audience. The integration with Place Exchange's patented technology enables advertisers to seamlessly plan, buy, optimize, and report on all Swiftmile inventory alongside other programmatic channels within the DSP systems they already use, leveraging the ease, flexibility, and automation of programmatic.
"As electric vehicles usage grows, our partnership with Swiftmile enables advertisers to expand their reach to a high-value and rapidly expanding audience." said Nick Bennett, SVP of Partnerships at Place Exchange. "It's been proven that DOOH advertising can help power the deployment of valuable environmentally-friendly services in cities and communities, and our partnership with Swiftmile is a great example of a win/win for advertisers, consumers, and the environment."
Swiftmile's infrastructure is driving battery and charging standardization for the global micromobility sector, with Hubs across North America and Europe.
Swiftmile is based in San Carlos, CA.