Adrian J Cotterill, Editor-in-Chief
Screenfeed has launched a new HTML content creation service built specifically to reduce the pain around creating and managing data-driven content projects for digital signage, called Screenfeed Connect. With Connect, users can now build custom content apps with an impressive set of tools in a user-friendly interface that can be scheduled right into playlists.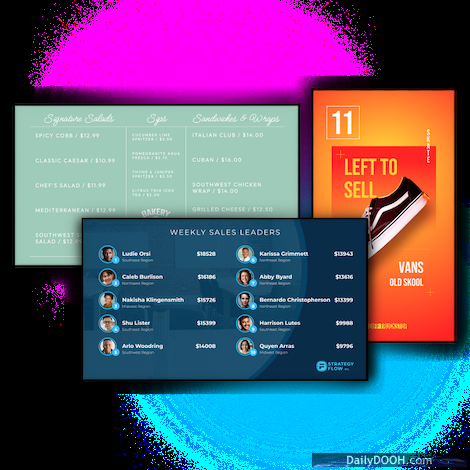 With the launch of Connect, Screenfeed is putting more power in the hands of anyone who is creating digital signage content that integrates data sources. Screenfeed has done the work for you with a number of pre-built data integrations and smart widgets that cuts multi-week projects for a team down to a simple to-do for one person.
Data-driven HTML projects would typically require outsourcing of labor from design companies or developers, which would take many weeks and thousands of dollars from start to finish. With Connect, custom apps don't require a team of designers and/or developers, and projects can be updated at any time using your existing data tools and the easy-to-use Connect interface.
Jeremy Gavin, Screenfeed CEO told us "I've always been a do-it-yourself-er, I'm impatient and I love great design and efficiency. I really appreciate the feeling of starting a project and completing it by the end of the day. Connect is built for people like me who want to overcome roadblocks to get projects done and not be limited to doing things the 'basic' way. Using the smart widgets and data connections in Connect to create a content app, I can build in an hour what used to take a designer and an HTML developer a week or two."
When creating an app in Connect, there are a few standout features that take the intimidation out of custom projects. Connect includes a user-friendly canvas where you can build an app from scratch, or where templates can be customized. A growing library of pre-made templates has been created by the Screenfeed design team for anyone who doesn't want to start from scratch.
Users can design with data using pre-built widgets which are pre-configured to display connected data beautifully. Data can be edited right within Connect, and contributors and moderators can be added for easy organization.
Connect integrates with tools you already use such as Google Sheets, Excel, Calendars, JSON, XML, Zapier and more to come. You can also upload or create your data right within Connect.
For a fee, there's also an option for users to provide their own data and creative direction, but have Screenfeed produce and deliver the final content app(s).
Screenfeed is thrilled to provide access to a solution that integrates with data in a low-maintenance environment. Connect will fill current holes created by restraints in the traditional content creation process and put time and other resources back in hands of users.
For over a decade, Screenfeed continues to be a leading provider in the digital signage content space, creating dynamic, high-quality content for users no matter the industry or content skill level. With a seasoned team of designers and developers, their mission is to help users to say yes to any and all content opportunities.