Delta Airlines is finally launching its Parallel Reality experience, allowing up to 100 passengers to see personalised content tailored to their journey on a single digital screen.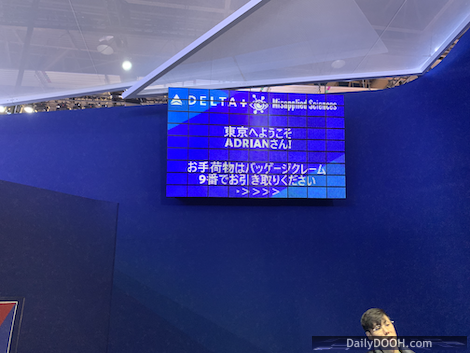 Shown first many years ago at #CES2020 (see our story here) it's basically an opt-in service that passengers can use to view customised flight and wayfinding information, even when standing next to dozens of other flyers.
Passengers who wish to interact with the experience scan their boarding pass or activate facial authentication at the exhibit kiosk, using multi-view pixels to engage each customer with personalised, in-language messages as they walk past the digital screen.
Ranjan Goswami, SVP, Customer Experience, Delta Airlines, told us "This technology truly must be seen to be believed. We can't wait for customers to experience the ease and convenience it can bring to their journeys, especially when paired with the wayfinding and personalisation capabilities of the Fly Delta app. The Parallelel Reality experience means customers will no longer have to search for flight and gate information – the personalised journey details the experience delivers is a powerful complement to Delta's digital tools and the unmatched service that our employees provide every day."
The Parallel Reality experience is currently only available at Concourse A of the McNamara Terminal at Detroit Metropolitan Airport in the USA. It's just past the security checkpoint. Passengers departing from the airport will be able to share their input directly with Delta Airlines as the airline aims to understand the technology's efficacy in the real world before a potential expansion to other airports.