German biotech innovator Green City Solutions has chosen media players from BrightSign to power its new DOOH screens designed to tackle the pressing problems of air pollution and rising urban temperatures.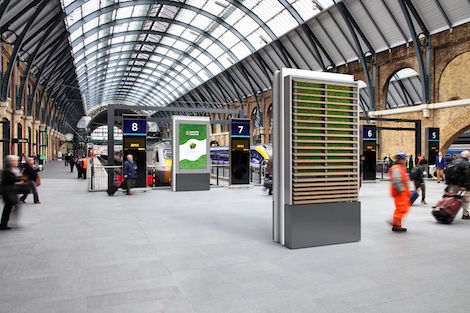 Known as CityBreeze, the digital billboards contain regenerative air quality filters made from high-performance moss. This ancient plant has a natural ability to attract and metabolise all kinds of harmful pollutants such as black carbon and nitrogen oxides, removing them from the atmosphere. It also cools the ambient air by evaporating water across its exceptionally large 'leaf' surface.
As well as a 75" LCD screen controlled by a BrightSign HD224 media player, each attractively designed CityBreeze unit has the capacity to filter 1,400m³ of cubic meters of air an hour, removing up to 82% of the pollutants contained in it and reducing its temperature by up to 4˚C. The moss is kept in perfect condition through smart IoT technology which can also be used to capture and share real-time air-quality data.
Simon Dierks, Marketing Lead for Green City Solutions told us "City authorities are very concerned about air quality and the increasingly problematic 'urban heat island' effect," said But the cost of installation and lengthy planning processes for environmental infrastructure can be real barriers. Every town already has fixed locations for OOH screens, however, and they need to be replaced every eight to ten years. When that happens, upgrading to a biotech system that also purifies the air and reduces the ambient temperature instead of increasing it makes a lot of sense."
The first CityBreeze kiosk was installed in Küsnacht, Switzerland at the end of 2021. Green City Solutions expects to sell between 100-150 more in the UK and Europe by the end of the year.
The CityBreeze modules have a guaranteed lifespan of 10 years, so robust, low-maintenance media players were also essential. "The BrightSign players are fanless and fit well into confined spaces without generating too much heat, which would reduce the cooling effect of the moss," explained Dierks. The CityBreeze units have a slim design for flexible installation in urban areas and the player is integrated into the casing.
CityBreeze screens can be installed anywhere with a power supply, but Green City Solutions is keen for them to be placed where they have the greatest impact for public health. That often means places with many pedestrians encountering heavy traffic pollution, which also frequently corresponds to the best DOOH locations – sites with large numbers of people and vehicles passing by.