Russ Curry, Ministry of New Media
No trip to Manhattan for New York Digital Signage Week (October 10 – 14, 2022) would be complete without a festive celebration organised by Bryan Meszaros.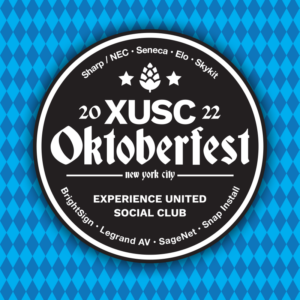 Join Bryan and team at OpenEye Global at Bierhaus NYC for the return of the XUSC Oktoberfest! It's a great Bavarian-style beer hall just two blocks from Grand Central, serving authentic German cuisine and bier by the boot!
Live music and steins of crisp Hofbräu bier will transport you to the tents of Oktoberfest in Munich, if only for a few hours.
The event will take place from 6 pm to 8 pm, and they will serve beer, wine, pretzels, and appetizers throughout the evening. Watch this space for when VIP invites and registration opens on Monday.
Zicke zacke, zicke zacke, hoi hoi hoi! PROST!!
#ff @openeyeglobal @BrightSign @Legrand @SageNetLLC @Snap_Install @elotouch @SharpNECDisplay @SenecaData @WeAreSkykit @XUSocialClub