Adrian J Cotterill, Editor-in-Chief
Outdoor Solutions Group has announce a new digital technology evolution within the New York Waterway ferry system's advertising program. Within the iconic NY Waterway ferry terminals and ferries, the new digital network media opportunity provides advertisers eye-level dynamic digital canvases to reach their target audiences of thousands of people traveling throughout the ferry system every day into New York City.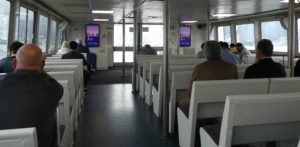 This first phase of the digital network is located within the Midtown W. 39th St NYC and Port Imperial Weehawken NJ ferry terminals, as well as the highest trafficked ferries. The network is made up of 27 digital displays, comprised of fourteen 75" portrait displays, one 55" portrait display, and twelve 43" portrait displays inside the ferries, using Broadsign content management and programmatic software.
The digital display network generates 4,525,444+ total weekly impressions according to Geopath, and an estimated additional 1,174,176+ "digital moving out of home" total weekly impressions inside the ferries.
Rosemary Valenti, CEO of Outdoor Solutions Group told us "We're excited to bring the dynamic capabilities of digital displays to the New York Waterway ferry commuter system. Going digital compliments and elevates our combination of advertising opportunities for our partners and clients. TSI Touch's custom in-wall enclosures, paired with the protective anti-glare glass, made the new digital network compliment New York Waterway's existing designs and locations. "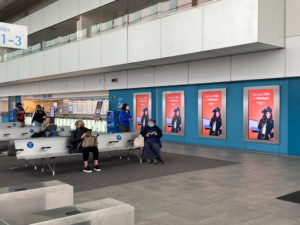 Pearl Media and Outdoor Solutions Group have been partners since 2021 and Anthony Petrillo, CRO of Pearl Media said "The new set of digital inventory throughout the waterway system allows brands to reach this very desirable audience seamlessly. Our partnership with OSG is always focused on developing the most meaningful media options for clients and this digital integration does exactly that. Brands now have the ability to communicate with waterway travelers in an even more effective way".
Outdoor Solutions Group represents the New York Waterway advertising program. The new digital display advertising network adds new eye-level digital displays inside the highest trafficked NYC & NJ ferry terminals and interior ferries operated by NY Waterway. OSG also represents the advertising program wrapping NY Waterway's fleet of NYC buses, commuter ferries and station domination media programs.

The NY Waterway ferry system is an iconic fixture of the NY metro area. It's a popular option to
travel in and out of NYC because it allows commuters and visitors to take in the city skyline. The
ferries and terminal media reach NYC commuters as well as waterfront residents on both the
NY & NJ sides of the Hudson and the buses reach people moving throughout the main
thoroughfares of Manhattan and around NJ. As a whole, the NY Waterway media inventory
reaches a mass audience of NY market professionals.