Adrian J Cotterill, Editor-in-Chief
London's first permanent digital immersive arts experience, Frameless, aims to bring art to life like never before and will be opening October 7, 2022 in Marble Arch, London.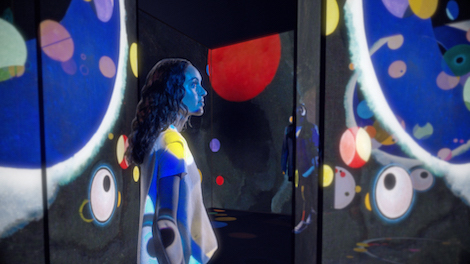 Frameless has partnered with Panasonic, who will use the venue as their global flagship to showcase their projection technologies and large format displays. Creative Technology have also been brought on board to deliver integration services for all video systems across the attraction.
Simon Kentish, CTO at Frameless, told us "We're partnering with Panasonic to deliver groundbreaking technology to Frameless, creating a digital immersive arts experience like never before. Panasonic's world class projection technology will bring iconic masterpieces to life in an entirely new way that truly encapsulates the idea of art being all around us."
The attraction uses over 50 of Panasonic's best of breed 3-Chip DLP laser projectors across all four immersive galleries as well as a fifth gallery dedicated to corporate and educational events.
Creative Technology are collaborating with Frameless to source and integrate all video systems across the attraction. They will be delivering services relating to the video systems in the venue across the four immersive galleries and the wider venue spaces including the foyer, escalator and cafe bar. Autograph Sound will be supplying and integrating all audio systems.
Jan Jahn, Head of Panasonic Media & Entertainment Business in Europe, was quoted as saying "We're delighted to partner with Frameless for our global flagship showcase. The thrill of seeing something unexpected or new for the first time is an experience that stays long in the memory, and we now have world class technology to place people right at the heart of this experience. Our projection technology will enable visitors to be close enough to the imagery to truly feel part of it!"
Frameless will offer visitors a culturally rich, immersive, multi-dimensional, entertainment experience within its London venue, which covers 30,000 square feet. The new attraction will be a multi-genre and multi-artist experience, featuring iconic masterpieces from artists such as Cezanne, Kandinsky, Monet, Canaletto, Rembrandt and Klimt to name just a few across four themed galleries – making it a must-see attraction for visitors of all ages.
Frameless is housed within the newly developed Marble Arch Place, located at the meeting point of Oxford Street, Mayfair and Hyde Park. It is hoped that London will be the first Frameless site, with plans to roll out multiple Frameless attractions in major cities around the world over the next five years.
Frameless has been brought to life by a collaboration of leaders in the technology, arts, architecture and experiential events sectors, including the award-winning creative team from FiveCurrents. FiveCurrents are the Emmy award-winning production team who hold 15 Olympic credits to their name, including the London 2012 ceremonies. Together they have curated and led an ensemble of renowned UK digital content talents, technical experts and storytellers, to fashion the Frameless experience from start to finish.