Adrian J Cotterill, Editor-in-Chief
The London borough of Camden has expanded its network of air quality sensors to capture and report 'hyper-local data' every minute and then map pollution in real time.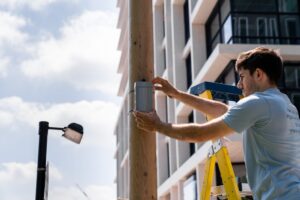 The project which started last summer, over 225 sensors have been installed on lampposts and buildings across the borough by environmental tech firm Airscape, with current data revealing 'unhealthy' levels of air quality.
Councillor Adam Harrison, Cabinet Member for a Sustainable Camden said "Reducing air pollution is absolutely vital to improving the health and well-being of everyone in Camden. The detailed data from this network will revolutionise how we can engage with our community, giving us the power to make smarter, informed decisions to tackle air pollution."
The initiative is the result of a collaboration between Airscape. Camden Council, and the Camden Clean Air Initiative.
Interestingly, Airscape claims the network provides 45 times more spatial resolution and refreshes 60 times more regularly than the existing network of air quality reference stations in Camden.
Dr Matthew Johnson, Chief Scientific Officer, AirScape, was quoted as saying "There were previously five data points [in the borough] providing data hourly, there are now more than 225 data points providing data every minute."
Data is publicly available at airscape.ai, where pollution levels from individuals sensors can be seen.