Adrian J Cotterill, Editor-in-Chief
Beyond Ordinary Events, Inc. has announced the first confirmed speakers for its launch of POSSIBLE, billed as a new, must-attend dynamic conference and expo experience, focused on the collision of people, culture, business and ideas which takes place April 17-19, 2023 at the Fontainebleau Miami, which also happens to be during #MiamiTech Week.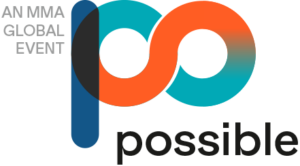 Christian Muche, CEO and Co-Founder of Beyond Ordinary Events, told us "We are extremely honored to have these prestigious individuals be part of launching POSSIBLE. They represent the world's most powerful brands and by having them as speakers, this puts POSSIBLE in the spotlight to become the industry´s tent pole event and inspire decision makers across the broader ecosystem of marketing, business, tech, and culture. These speakers support POSSIBLE's mission to bring marketers together and discuss the challenges they face head on and to give them the tools and confidence to become more successful in the future. Soon, we will present a list of more amazing celebrities and industry leaders."
POSSIBLE hopes to welcome up to 5,000 of the most respected and impactful business leaders and practitioners, including brands, technology, digital, media, entertainment, and culture, over the course of three days.
The first confirmed speakers are Chief Marketing Officers (CMOs) from top global brands:
Deborah Wahl, Global Chief Marketing Officer, General Motors
William White, Chief Marketing Officer, Walmart
Linda Lee, CMO, Campbell Soup Company
Karin Timpone, CMO Major League Baseball
David Tinson, Chief Marketing Officer, Electronic Arts (EA)
Rishad Tobaccowala, Author, Podcast Host of What's Next
Lou Aversano, Chief Marketing Officer, Cigna
Andrea Brimmer, CMO, Ally Financial Inc.
Mayur Gupta, Chief Marketing Officer, Kraken
Angela Zepeda, Chief Marketing Officer, Hyundai Motor America
Shelly Palmer, CEO, The Palmer Group
John Battelle, Co-Founder & CEO, Recount Media
Lynne Biggar, former Global CMO, VISA
Diana Haussling, Vice President, General Manager Consumer Experience & Growth, Colgate-Palmolive
Ultimately POSSIBLE may have up to 200 speakers representing all aspects of the industry on its stages, presenting 16 tracks of curated content, Masterclasses, workshops, an exposition, an outside activation area, VIP networking, and events.
POSSIBLE also brings nearly all of MMA Global events under the POSSIBLE umbrella, including the SMARTIES and presentation of its proprietary research, making this forum a complete 360 experience.
Other events that week include #eMergeAmericas April 20 – 21, 2023 as well as the second AdTECH: OOH – Miami Conference that week put together by the Ministry of New Media.
Last year #MiamiTech Week also saw the DPAA, the global trade marketing association hold LATAMDOOH | MIAMI, its (then) first in-person event in the city the evening before the AdTECH: OOH – Miami Conference.
More information about PossibleEvent can be found here.