It appears that CAKE's Ösa+ electric motorcycles have silently been patrolling the bike paths of Los Angeles for the last three months.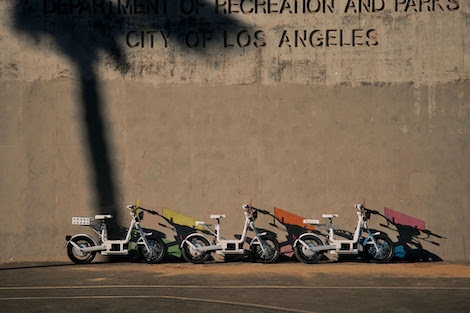 As part of a pilot program with StreetsLA, staff were using the modular utility bikes to monitor 1,100 miles of L.A. 's bike paths and report on the quality of the pavement. An average of 18 asphalt repairs were identified each week, all of which were repaired in the week that followed by StreetsLA's pothole repair program.
StreetsLA Executive Officer and Chief Sustainability Officer Greg Spotts told us "We're grateful to Cake for deploying their electric vehicles in service of LA's cycling community, and to our staff who volunteered for this unique and innovative assignment".
Councilmember Paul Krekorian, Chairman of the Budget and Finance Committee, came up with the idea of using two-wheeled electric vehicles for inspecting the city's bike lanes. Riding the small but powerful electric mopeds and scooters from CAKE allowed inspectors to experience the bike paths from the eyes of cyclists and better identify road hazards than if they patrolled in a car.
The pilot program is part of Mayor Eric Garcetti's directive to develop a 'Path to Zero Emissions' that's included in his Green New Deal for Los Angeles.
"If we want Angelenos to get out of their cars, we need to give them real alternatives to driving – and that starts with improving the quality of our streets and services," said Los Angeles Mayor Eric Garcetti. "This program from StreetsLA showed us exactly where our bike network needs attention — paving the path to higher quality lanes, greater accessibility, and future programs that can use this pilot as a blueprint for success."
For CAKE, participating in the bike lane improvement program is a natural fit with the brand's mission to inspire society towards a zero-emission future.
"It's been great working with StreetsLA on their Bike Lane Pilot program, contributing to more dynamic and sustainable urban transportation, and being part of the city's initiative to be fully electrified by 2030. The feedback we're hearing from riders in the program is that using CAKE's electric mopeds and scooters made it easier for them to inspect bike lanes and assess risks to cyclists," said Eric Asmussen, Managing Director North America at CAKE.