Adrian J Cotterill, Editor-in-Chief
i-media has reached a key landmark in its digital screen roll out at UK Motorway Service Areas, having now reached the installation of 200 Digital 6 sheet panels at 50 locations.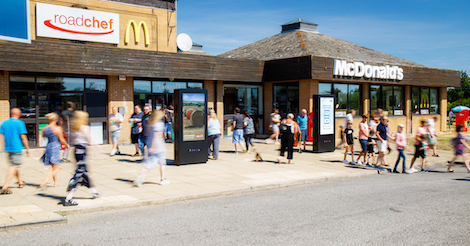 i-media now operates a total of 275 large and small format full motion screens across the UK, from Exeter to Stirling and Swansea to Medway.
We are told that the digital build will continue for the rest of the year as they move towards completing a national D6 network of 520 screens and an upgrade and new build of 130 D48 Nexus screens, with both formats live at every Motorway Service Area location.
Jonathan Lewis, i-media CEO told us "This significant investment generates real national scale and improved aesthetics and typifies the rapid transformation and recharge we are generating as we continue to improve and enhance the MSA environment. It remains part of our commitment to drive business through technology, data and quality of impact for advertisers to reach a growing audience in the most intelligent and accountable way."
Founded in 1995, i-media has been a leading force in Motorway advertising for over 25 years. Rebranding to i-media is part of a programme of rapid transformation reflecting the company's expertise in traditional and digital OOH advertising solutions, tailored to advertisers' communication needs, across all UK Motorway Service Areas.
With 6.3 million motorists taking advantage of UK Motorway Service Areas every week, our strategically positioned advertising sites enable brands to reach a specific mix of audiences. Whether targeting Families on a national level or Tradespeople in a specific area, from Impulse Snackers to SME decision makers, i-media offers a truly immersive and engaging media opportunity.
The business is majority owned by MSA Advertising, with Jonathan Lewis taking over as CEO in 2021.