Out of Home in Aotearoa has experienced its fifth consecutive growth quarter, as advertisers continue to see value in and support the channel that allows brands to meet people in the real world and drive them to take action.
The growth comes from several touchpoints:
Out of Home's audience numbers returning across nearly all formats
The OOHMAA endorsed Industry Audience Measurement System Calibre, enhancing its offering and gaining a new shareholder in MediaWorks; cementing it as the true industry Out of Home measurement platform
Continued investment by OOHMAA and OOHMAA's members in research and insights
Ongoing development, implementation and education of pDOOH
With Out of Home experiencing continued growth, we want to ensure that brands achieve the most from their campaigns, so what's the best way for advertisers to catch their audiences' eyes and effectively engage them? 
OOHMAA's five top tips for achieving more from Out of Home are:
More formats = better results
With Out of Home experiencing continued growth, brands can achieve the most from their campaigns by understanding the various formats and how consumers engage with each of these:
With Out of Home, there's no such thing as one and done. Every format has a unique set of strengths and is consumed differently. 
OOHMAA's recent study revealed that using three or more formats achieved an average increase in ROI of 34%*. This makes sense when you consider Out of Home is everywhere kiwis live, work, play and shop, so its superpower is in its ability to deliver mass reach across multiple touch points. Greater reach normally equals better ROI.
Don't test – Invest
When using any channel for the first time, it's natural to want to 'test' it before fully committing to it. However, this won't give you a true understanding of its impact or effectiveness. In the same way, test driving a Ferrari F8 Tributo at 80kph wouldn't give a true reading on what the vehicle was capable of testing or treading lightly with Out of Home channels won't allow you to see the full capabilities of the channel.
This sentiment can be supported by research; OOHMAA's Examination of NZ Media Performance & Out of Homes Role shows that campaigns with a more significant portion of their budget assigned to Out of Home achieved a higher ROI; 16% increase in ROI if more than 10% of the entire budget went on Out of Home.
Be specific
Out of Home is predominantly an 'at a glance' medium, demanding the very best from creatives. Messages need to be distilled down to their purest form; focused, succinct, and powerful. The channel demands to be easily consumed and digested as audiences go about their everyday life. 
The key to campaigns being meaningfully noticed is to have messages created not only specifically for Out of Home, but ideally for the various formats that make up an Out of Home schedule. This simple step can potentially increase your campaign ROI by 41%*.
Advertisers who want to understand more about the various Out of Home formats on offer in Aotearoa and insights around how they are consumed, their strengths and how to get the audience engaged can find this out in OOHMAA's Creative Guide.
Context is Queen
We've all heard 'Content is King', but without context, it's just words and pictures. So, if 'Content is King', then context must be Queen. 
Situation placement has always been important, and a new generation of marketers are taking advantage of context and making it a key part of the content, with proven results**: 43% more engaging, 122% greater recall, and a significantly higher intent to purchase.
Out of Home brings URL to IRL

 
Industry research has shown Out of Home is exceptionally well equipped to prime digital advertising and drive customers online in many ways. 
It has broad reach, building mass awareness. As a powerful and trusted channel, Out of Home nudges consumers into the buying funnel.
It drives consumers online – Rapport/IPA – Standing on the Shoulders of Giants study showed a direct connection between Out of Home and the performance of digital channels, with Out of Home amplifying the effectiveness of search and social.
With its ability to prime digital channels,digital companies repeatedly rely on Out of Home to broaden their appeal, drive new behaviours, and build their brands in the public domain as our lives increasingly migrate online with the ongoing adoption of smart devices. Google's voice search campaign is memorable for using Out of Home's real-world context of location very effectively and driving a 70% increase in search.
Out of Home proves that advertising doesn't need to be online to drive online, with its unique ability to impact and grab consumers' attention in the real world. Incorporating a call to action or QR code is a simple way of bringing URL to IRL.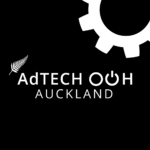 When all five tips are incorporated into planning, Out of Home is the ultimate creative stage, delivering scale, impact, reach, immediacy and flexibility.
The Ministry of New Media are currently planning AdTECH: OOH – Auckland which they hope will take place as early as February 2023.
*Source: Analytic Partners Meta Analysis, New Zealand, 2015-21
**Spark Neuro Study 2022