Guest Contributor, Josh Pritzker
Are you looking to capture your audience's attention using digital billboard ads?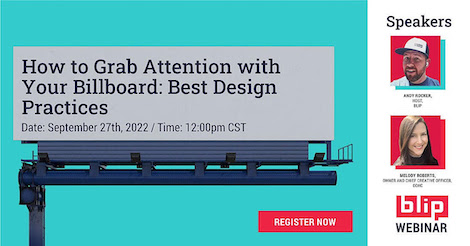 If so, join Andy Rocker, Director of Customer Success at Blip, and Melody Roberts, Chief Creative Officer at OOHC, for a live discussion on September 27th at 12pm CST to learn proven design practices for creative and memorable billboards that grab attention.
In this webinar, you'll learn:
What grabs attention and stands out to customers
How to unlock your most creative and memorable designs
How to tweak your billboard design for maximum ROI
How to build better ads with Blip's design guidelines
Sign up with the link below to reserve your spot!
We'd also love to hear your questions that you'd like answered in the webinar, so if you have any, please let us know here. Thanks for your input!