A new CAKE Pop Up Store London is now open and is located on 55 Curtain Road, London, EC2A 3PT. It is part of part of CAKE's city-by-city global expansion plan and includes a showroom, event space,  full-service centre and demonstration vehicles, giving Londoners the opportunity to not only test ride these extraordinary electric vehicles, but also a place for the community of CAKE riders to service their bikes and connect with the team.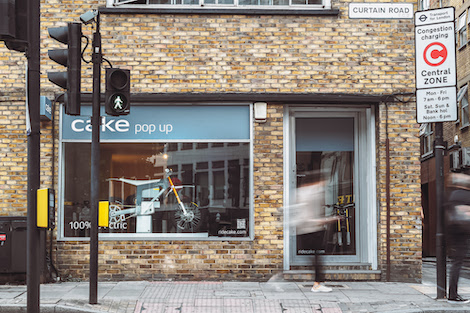 We are told that a UK sales team is already in place, with growth plans including an expanded local team to serve British B2B and B2C customers. Curious Londoners can begin by visiting the CAKE Pop-Up Store in Shoreditch, with a permanent CAKE:site expected to open later this year.
The CAKE Pop-Up will showcase their unique range of uncompromising, high-performance and versatile electric motorcycles developed by acknowledged entrepreneur in strategy, design and branding, Stefan Ytterborn.
"London is an important part of our multi-city strategy, where we treat key cities as proper markets of their own. There is definitely an appetite for sustainable transportation alternatives in this vast city, and sustainability is our reason to exist and simply inseparable from our business. With its commuter challenges, yet maturity in terms of bicycle riding, CAKE will further release the congestion issues of London and we want our community of CAKE riders to be a part of this change." said Stefan Ytterborn, Founder and CEO of CAKE.
Combining excitement with responsibility, CAKE's mission is to inspire towards zero emission. All components are engineered from scratch to optimise the riding performance while enhancing the perspectives of sustainability.