Adrian J Cotterill, Editor-in-Chief
DPAA, the global trade marketing association, driving the growth and digitization of out-of-home media today and its growing role in the omnichannel mix, announced the full release of its Canadian Omnichannel Decision Makers study to all of its members. The bi-annual study surveys Canadian brands and agencies on their perceptions, knowledge and plans for using the out of home medium. The study was conducted by Advertiser Perceptions and is sponsored by Roger Sports & Media.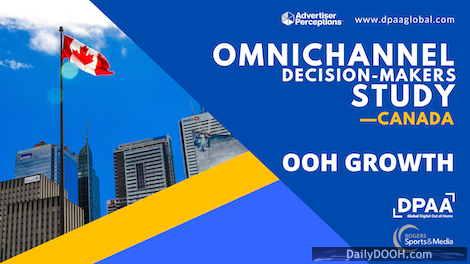 After the significant disruption to advertising investment faced by the entire media ecosystem in 2020, out-of-home media in 2022 continues to not only recover, but to gain momentum thanks to its digital transformation, powerful creative canvas and mainstreaming as a channel within overall digital and video media planning the study finds. 
Initial results of the study were shared on stage at the DPAA Canada Summit by Barry Frey, President & CEO of DPAA and Brandon Kirk, VP Client Solutions for Rogers Sports & Media. Key findings include. 
89% of advertisers say DOOH has been taken out of traditional OOH media planning silos to enable integrated cross-channel buys.
84% of omni-digital advertisers plan to recommend DOOH in their media plans in the next year.
88% of omni-digital decision-makers reported knowledge of the channel has increased in the past 12 months.
Top three factors driving DOOH ad growth included:

Marketing mix models showing positive impact of DOOH on business outcomes (54%),
Attribution of in-store traffic, consumer media behavior and purchase (52%),
Mobile data to track consumer locations before and after to DOOH screens (43%).

For 76% of advertisers, DOOH is an important part of omni-channel video advertising.
"This year's report shows greater DOOH integration into the media mix," said Barry Frey, President & CEO of DPAA. "We are proud to distribute the full suite of insights to our members."
"From perceptions and knowledge, sources of funding, the role of programmatic and more, we are proud to be partners of this leading study that regularly checks the vitality and robustness of the DOOH industry," added Brandon Kirk, VP Client Solutions, Rogers Sports & Media. 
Rogers Sports & Media is a diverse sports and content company that engages more than 32 million Canadians each week. The company's multimedia offerings include 54 radio stations, 29 local TV stations, 23 conventional and specialty television stations, podcasts, digital and e-commerce websites, and sporting events. Rogers Sports & Media delivers unique storytelling through its range of powerful brands: Citytv, OMNI Television, FX, TSC, KiSS, Breakfast Television, Cityline, CityNews, Sportsnet – Canada's #1 sports network, and the Blue Jays – Canada's only Major League Baseball team.  Rogers Sports & Media is a subsidiary of Rogers Communications Inc. (TSX, NYSE: RCI).