LUMO Digital Outdoor has announced an integration with Hivestack's first-to-market DOOH yield management solution that will offer the New Zealand market a glimpse of the next era of growth for Digital OOH. Hivestack, the world's leading independent programmatic DOOH ad tech company, launched its Yield Manager for DOOH back in October 2021.
Jack Plowright, GM of programmatic, LUMO said "The market is currently oversupplying demand, which means we're not seeing real competition in the marketplace just yet. This move will see immediate benefits for buyers by opening up our inventory completely and the move towards a more open, dynamic marketplace. Buyers will see every ad request on our network, and have a fair shot at it, regardless of the DSP they use."
As programmatic adoption grows, the NZ-based digital billboard network has made a considerable stride in future proofing its network – onboarding Hivestack's Yield Manager to mediate the auction between its supply side platform (SSP) platforms (Hivestack & Vistar) as well as its ad server (Hivestack), mimicking how header bidding works in online ad tech.
This new offering allows LUMO to offer its inventory to multiple SSPs at the same time – rather than previously alternating offers, which effectively halved the inventory some buyers can 'bid on', and reduces the competition for the inventory within the marketplace.
Under the new Yield Manager integration, once both SSPs have been offered the ad opportunity, the Hivestack's manager conducts a unified auction, where bid responses received by each SSP compete simultaneously on price.
Mike Neel, director of publisher solutions for Hivestack told us "The Hivestack Yield Manager enables header bidding in DOOH and is based on a unified auction designed to surface the most optimal bid for every ad request across multiple SSPs. Lumo have onboarded and started using this tool to effectively maximize their programmatic revenue potential within their premium network by holding an auction that finds the highest CPM bid available at any point in time."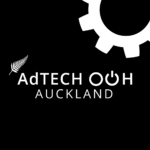 Buyers benefit from this mediation process by having fairer access to quality inventory, seeing all ad opportunities equally, and having the best chance reach the audiences they want, on the inventory they want.
The Ministry of New Media are also planning AdTECH: OOH – Auckland which they hope will take place as early as February 2023.