Adrian J Cotterill, Editor-in-Chief
In recognition of Suicide Prevention Month, Lamar Advertising Company (Nasdaq: LAMR) today launched a national Digital Out of Home campaign in partnership with Vibrant Emotional Health to elevate awareness of Vibrant's mental health services and to promote the 988 Suicide & Crisis Lifeline. Vibrant is a non-profit organization and leader in delivering mental health and crisis intervention services.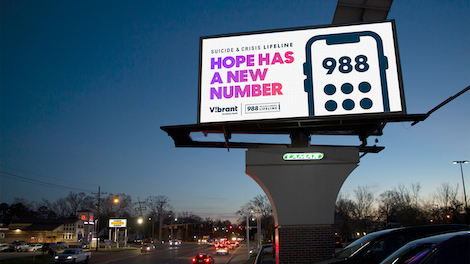 Throughout the rest of the month, Lamar billboards will feature Vibrant's #BeThe1To hashtag and website, which provides information on the steps that can be taken to save a life. The campaign will also showcase the new #988 Suicide and Crisis Lifeline number, which automatically connects callers or texters to the National Suicide Prevention Hotline.
"Suicide tragically impacts so many families and lives in our country," said Tammy Duncan, EVP of Human Resources at Lamar Advertising Company. "We're hopeful that, in deploying our national digital network, everyone will know that help and hope is just a phone call, text or click away."
The campaign will run on Lamar digital billboards across the country through the end of September.