Adrian J Cotterill, Editor-in-Chief
This year's OAAA/GEOPATH OOH Media Conference takes place in Nashville, TN. from Monday, March 27 to Wednesday, March 29, 2023.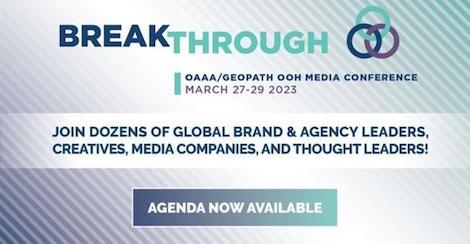 Here's the agenda for the three days: –
| | |
| --- | --- |
| 10:00 AM – 12:00 PM | Geopath Board of Directors Meeting  |
| 12:30 PM – 1:45 PM | OAAA Board of Directors Meeting  |
| 1:45 PM – 2:00 PM | Break |
| 2:00 PM – 4:00 PM | OAAA  Leadership Summit *Invitation only   |
| 5:30 PM – 7:30 PM                  | Welcome Reception in The Hub sponsored by Broadsign |
7:30 AM – 8:30 AM 
Networking Breakfast in The Hub 
The Hub is the central location for attendees to gather to experience the offerings OOH vendors provide for the industry, socialize during meal functions, experience pop-up sessions in the new stage area, or grab a latte in the cafe.
8:30 AM – 10:30 AM                                                                                                                                                                                                                                                                                                                                                                                  
General Session Convenes

Sessions Include:

Welcome + State of the Industry
Anna Bager, President & CEO, OAAA
Crossing the Generational Divide
Jason Dorsey, Generations and Behavioral Researcher and President, The Center for Generational Kinetics
A Fireside Chat with Sophie Kelly, SVP of Whiskies, Diageo North America 
Interviewed by Anna Bager, President and CEO, OAAA

10:30 AM – 11: 00 AM
Networking Refreshments Break In the Hub sponsored by Circle Graphics 
11:00 AM – 11:45 AM 
General Session Reconvenes

Sessions Include:

The 2023 Outlook for High-Growth Brands
Brittany Deems, Brand Marketing Director, Coterie
Josh Fajardo, Sr. Director, Brand Marketing, Zelle
Additional Speakers TBA
Defining the Next Era of Marketing, Media, Creativity and Consumer Experience
David Sable, Co-Founder & Partner, DoAble
Interviewed by Anna Bager, President & CEO, OAAA

11:45 AM – 12:45 PM
Tracks
Three concurrent program tracks provide attendees with an opportunity dig deeper on the topics most relevant to their business.  
Track I : Omnichannel Marketing
How OOH Can Help Connect a Fragmented Media EcosystemThe nearly infinite number of screens, platforms and channels defining today's media landscape make reaching consumers with cohesive brand experiences incredibly challenging. In this track industry experts unpack the power of OOH to breakthrough a fragmented media landscape, bridge the gap between IRL and URL, ultimately connecting with consumers wherever they are.
Track II Data Innovation
How OOH Can Help Brands Thrive in Today's MarketplaceHigh performing campaigns that maximize impact and ROI have always been key for advertisers – and today's complex macroeconomic environment is driving even greater focus on efficacy and efficiency. At the same time, ongoing cookie deprecation has resulted in renewed attention being paid to context, location and other data signals. In this track, industry experts explore how infusing data, creativity, and innovation into OOH's legacy location and context strengths open a wide range of opportunities for brands to supercharge growth- even in challenging times.
Track III: Measurement in 2023 and Beyond
How OOH Can Deliver Metrics that Matter to BrandsUnderstanding efficacy and impact has always been important for advertisers, and increased sophistication around the KPIs that define it mean there is a far broader set of outcomes being measured by brands. In this track, industry experts discuss the innovative ways OOH can provide this information and insight, ultimately delivering the metrics that matter to today's marketers.
12:45 PM – 1:45 PM 
Networking Lunch in the Hub sponsored by Williamson & Associates
1:45 PM – 4:00 PM
General Session Reconvenes 

Sessions include:

Balancing Brand and Performance in the New Brand Economy
Brad Backenstose, Executive Director, New Economy Lead, Wavemaker
What's Your Story? How Storytelling Can Transform an Industry
Wayne Partello, Co-Founder, CEO, Cuento and former CMO, San Diego Padres
Building a More Diverse and Equitable Industry
Introduction by Marc Fenty, SVP, Director of OOH, Horizon Media and Co-Chair, Founding Member, OOH UNITED
Jeff Marshall, Chief Diversity Officer, Head of Diversity, Equity & Belonging, UM Worldwide
Anna Bager, President & CEO, OAAA

4:00 PM – 4:30 PM 
Networking Break in The Hub sponsored by Circle Graphics
4:30 PM – 5:15 PM
Breakthrough Town Hall Sessions 
New in 2023, Town Halls are interactive sessions, facilitated by a cross-section of industry experts. Attendees will debate, discuss, and identify what's needed to address critical OOH issues, surfacing what's needed to advance the industry. The output from these Town Halls will help inform OAAA and member activities for the year to come.
Town Hall I: Breaking Through
How can we help the larger advertising industry better understand the full scope of OOH's promise?
Town Hall II: OOH's Programmatic Breakthrough 
What will it take to better incorporate OOH into the larger programmatic landscape in the next 12 months? How can we leverage programmatic to drive net new revenue and growth for the industry?
Town Hall III: Share Shift
Why are brands underspending in OOH – what's in the way? How can we breakthrough this resistance?
7:00 PM – 8:30 PM
Industry & OBIE Awards 
8:30 PM – 11:00 PM
OBIE's After Party hosted by Lamar
Wednesday, March 29, 2023
7:30 AM – 8:30AM 
Networking Breakfast 
8:30 AM – 12:00 PM                      
General Session Reconvenes

Sessions include:

Sustainability & Responsible Growth:
A New Model for Brands, Businesses, and Industries
Rupen Desai, Co-Founder, The Shed28, Former CMO, Dole Sunshine Company
Local Case Study Award Presentation
How a Disruptor Brand Disrupted with OOH
Stephen Lease, Co-Founder & CEO, goodr
Geopath President's Address
Dylan Mabin, President, Geopath
Panel Discussion: OOH Measurement- What's Next?
Ari Buchalter, CEO, Place Exchange
George Ivie, CEO and Executive Director Media Rating Council (MRC)
Dylan Mabin, President, Geopath
Andy Sriubas, Chief Commercial Officer, OUTFRONT Media
The Global POV
Tom Goddard, President, World Out of Home Organisation and Chairman, OOH Capital
Special Guest TBA
The Leadership Outlook
Jeremy Male, Chairman and CEO, OUTFRONT Media
Sean Reilly, President and CEO, Lamar Advertising Company
Scott Wells, CEO, Clear Channel Outdoor America
Closing Keynote TBA

12:45 PM
Conference Concludes 
*All agenda times are listed in Central Time zone.
Registration can be found here.
You can join the conversation at #OOH2023
This entry was posted on Friday, February 3rd, 2023 at 16:35 @733 and is filed under Scuttlebut. You can follow any responses to this entry through the RSS 2.0 feed. You can leave a response, or trackback from your own site.