There are still a handful of tickets available for next week's ANC led behind-the-scenes tour of two of New York's most unique display experiences; Pier 17 and the newly opened Tin Building in the revitalised Seaport District of downtown Manhattan, which will take place during New York Digital Signage Week.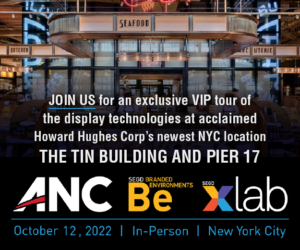 The tour takes place on Wednesday, October 12 at 15:00 as part of the SEGD Branded Environments 2022 and the SEGD Xlab 2022 'experience'.
Following the tour, ANC will host a complimentary cocktail reception with hors d'ouevres at Pier 17's exclusive rooftop bar with stunning views of downtown Manhattan and the Brooklyn Bridge.
Please note that the cocktail reception is open invitation for anyone to join, even if they did not register for the tour.
More information and registration can be found here.
Now in its 11th year, New York Digital Signage Week will take place October 10 – 14, 2022.
The week kicks off with the Creative Realities Inc. Times Square Digital Safari and includes the DPAA VIP & Speakers Dinner, the Digital Signage Federation Cocktails & Controversy, the DPAA Global Summit, the Sony Annual AV Tech Expo, The SiliconCore Lunch and Learn, OAAA & Geopath Cocktail Party, the IAB Brand Disruption Summit, AdTECH: OOH – New York, the first of the ADVERTISING Club of New York's "Conversations With…" Series, the Tin Building and Pier 17 ANC Tour, ANC Cocktail Reception, the XUSC Oktoberfest at Bierhaus, the Pepcom Holiday Spectacular, SMASHING IT: OOH + AV SOLOMON Partners Cocktails, a Vistar Media Drink Reception, the Advertising Research Foundation's Creative Effectiveness Event, the ARF David Ogilvy Awards Reception, the SEGD Branded Environments 2022, an exclusive SEGD welcome reception hosted by Electrosonic, the SEGD Xlab 2022 and much, much more!