Adrian J Cotterill, Editor-in-Chief
Over the past few years the folks at Creative Realities Inc. have pretty much owned the digital signage tour space – both innovating with and hand holding industry influencers along the journey.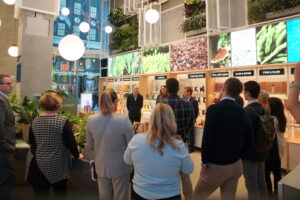 This New York Digital Signage Week will be no different with the Monday October 10, 2022 activities kicking off in the afternoon with a 'Digital Safari in Times Square'.
The tour will start at 15:00 and will last just under two hours. You will need to have your walking shoes to hand.
At each stop, there will be a very short presentation, explanation of what is on offer and a Q&A by someone from the venue or intimately involved in its build.
Currently, it's planned to visit five or six venues along the lines of: –
Krispy Kreme
Levis
Taco Bell Cantina
Urban Outfitters [tentative]
Dyson, 640 5th Ave
McDonalds
JD Sport, 1466 Broadway (or possibly Nike on 650 5th Ave)
and it will conclude at One Times Square where real estate advisor Sensory Interactive, yes those folks that specialize in what they call Dynamic Real Estate will present.
If you are an industry influencer, work in retail and want to come along then please drop me a line (you can use the comments field below also to request inclusion).