Adrian J Cotterill, Editor-in-Chief
At the DPAA Global Summit, to be held on October 11 at Pier 60 (Chelsea Piers) during New York Digital Signage Week (October 10-14, 2022) Adidas will be talking about their Success in the Metaverse and the Future of Consumer Engagement and Microsoft will be talking about Marketing Through Complexity.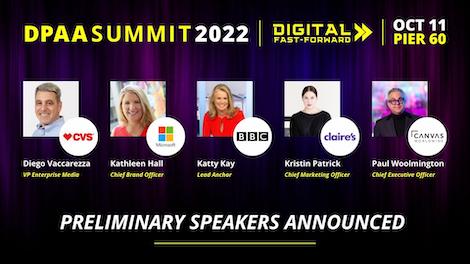 Adidas of course has been an iconic brand for generations. The brand now engages with the highly sought after GenZ in their playground of choice – the Metaverse. The Metaverse is an open economy where inclusion, sustainability and culture credibility are key. Erika Wykes-Sneyd, Adidas' VP of Global Marketing will discuss how the brand entered the Metaverse, how it achieved success and how it co-creates with its loyal fanbase. Erika will also detail the brand's early moves into the Metaverse and future outlook.
Creativity has always been a key ingredient in marketing, and even the biggest brands like Microsoft have re-examined their processes in the last few years. Kathleen Hall is Chief Brand Officer at Microsoft, one of the world's largest advertisers, and a member of DPAA's Brand Board. Kathleen will discuss Microsoft's overall marketing strategy and how their creativity and brand has evolved. She'll address the complexity of technology in marketing today and some ways to better manage and simplify this. This discussion will cover how this applies to the many media options today, and how to best engage with consumers, including her views on programmatic, advertising and Digital Out of Home opportunities.
The theme of this year's summit is Digital Fast Forward and sessions will address the role of retail media, programmatic, and the growing role of Out-of-Home in today's omnichannel mix, among other topics.
Now in its 11th year, New York Digital Signage Week will take place October 10 – 14, 2022.
The week includes the DPAA VIP & Speakers Dinner, Digital Signage Federation Cocktails & Controversy, the DPAA Global Summit, the Sony Annual AV Tech Expo, The SiliconCore Lunch and Learn, OAAA & Geopath Cocktail Party, the IAB Brand Disruption Summit, AdTECH: OOH – New York, the first of the ADVERTISING Club of New York's "Conversations With…" Series, the Tin Building and Pier 17 ANC Tour, ANC Cocktail Reception, the XUSC Oktoberfest at Bierhaus, the Pepcom Holiday Spectacular, SMASHING IT: OOH + AV SOLOMON Partners Cocktails, a Vistar Media Drink Reception, the Advertising Research Foundation's Creative Effectiveness Event, the ARF David Ogilvy Awards Reception, the SEGD Branded Environments 2022, an exclusive SEGD welcome reception hosted by Electrosonic, the SEGD Xlab 2022 and much, much more!