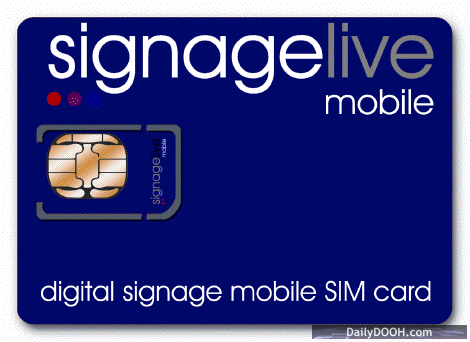 With the right package / careful choice of options and the use of aggregators, what Remote Media said in a press release last week with their launch of Remote Media signagelive® mobile is correct, that "Mobile Digital Signage is now cheaper than fixed line Broadband"
The idea is a simple one and it's great plug and play, with signagelive mobile [1] you just insert your SIM card into the USB Modem, plug it into your signagelive device and you are away!
MediaTile [2] are very much the masters of this in the US but we think have been a little slow on the uptake in Europe – though we are expecting half a dozen major announcements from them shortly.
Unbeknown to the Remote Media folks we met some of their potential customers over in North America and Canada last week and have to say how complimentary everyone was about them (as indeed we usually are).
Remote Media may not be that big, but as we have said many times before and don't mind repeating they are 'punching weigh above their weight" – they are particularly good at packaging things together and others in the sector could learn how they use their brand to good affect also.
From what we have seen, it looks like Remote Media are working exclusively with Vodafone UK and offering 1GB and 3GB data SIM packages over the GPRS/3G network.
The UK mobile providers have, we think, made so much money from normal consumers, that they have been very slow to see the business benefits (from a profit point of view haven't had to worry) of the digital out of home sector. You can move an awful lot of data around a 3G network if you know what you are doing (IP traffic over 3G works a little differently than TCP/IP over DSL etc. – it's the same protocol technically but you need to know a lot more about return paths, cell towers etc. etc. BUT it's usually invisible to the end customer)