Adrian J Cotterill, Editor-in-Chief
Pearl Media has been awarded the exclusive marketing and media rights to the current and future Out of Home Media Assets at the highly trafficked Brickell City Centre in Miami.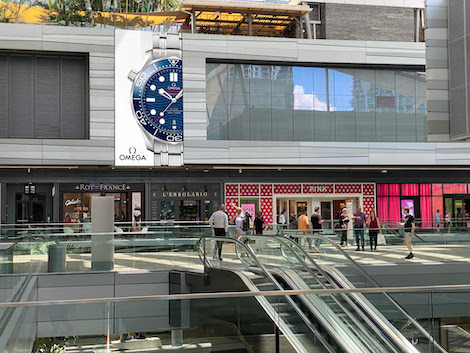 Shaun Swanger, Vice President, People and Operations for Swire Properties told us "The Pearl team has shown they understand the mixed-use space and how to best market and drive revenue through media and strategic brand partnerships. We are super excited about the future and building out this Property and its marketing opportunities with Pearl".
The addition of Brickell City Centre expands Pearl's digital footprint and focus on delivering brands more specific media buys through partnerships with some of the most sought-after mixed-use developments and OOH assets in urban core downtown markets around the country. Such hot spots include Brookfield Place, New York City, Fifth + Broadway, Nashville, and The Salesforce Transit Center in San Francisco.
Developed by Swire Properties Inc, Brickell City Centre is a five-story lifestyle center covering nine acres made up of high-end shopping, restaurants, office, hotel, and entertainment. The property's media mix currently consists of over 1,000 sq ft of digital LED with two large format screens that bookend the venue. Over the next six months, the partnership plans to significantly expand the digital footprint by adding 28 digital screens comprised of 4 additional large format LEDs and 12 double sided digital kiosks.
Brickell, known as Miami's financial center, has exploded over the last couple of years, sitting in one of the most densely populated office markets in the country that is surrounded by high rise residential, roof top entertainment, eclectic restaurants, shopping, night life and more.
Joshua Cohen, CEO of Pearl Media said "We have been looking for the right asset for us to re-enter the Miami Market since we exited in 2019. Brickell City Centre is one of the major shopping and entertainment hubs in South Florida and with the elaborate, additional digital footprint this venue will be a media haven for brands to reach this highly sought-after demographic".
Pearl officially takes over the property in early November with the digital expansion slated for Q1 of 2023. For media and marketing opportunities, please contact Anthony Petrillo at apetrillo@pearlmedia.com
Brickell City Centre (BCC), developed by Swire Properties Inc, is a $1.05 billion mixed-use development landmark in the heart of Miami's bustling financial district, Brickell. The nine-acre property includes almost five million square feet of retail, office, luxury residential, hotel and entertainment space, plus an unprecedented two-level, seven-acre underground parking garage. Coined Miami's "city within a city", BCC unveiled its first phase in November 2016, comprised of two luxury residential towers – REACH and RISE, two mid-rise office buildings – TWO BCC and THREE BCC, and tony EAST, Miami Hotel, all towering above the ultimate amenity- a 500,000 square foot open-air retail center boasting 125 storefronts and three levels of unparalleled shopping, dining and entertainment anchored by an ultra-modern Saks Fifth Avenue, luxury dine­in theater CMX and Italian food hall Luna Park. The project's three city blocks are all connected by its architectural crown jewel, the CLIMATE RIBBON™ ; the larger-than-life canopy of steel and glass that spans 150,000 square feet acting as a sophisticated environmental management system protecting shoppers from South Florida's heat and rain.