Australians are preparing to shop smarter this Christmas to get ahead and combat the rising cost of living. Localism, in-store purchases and preferencing ethical and sustainable brands are all key trends, according to Shopper's latest research.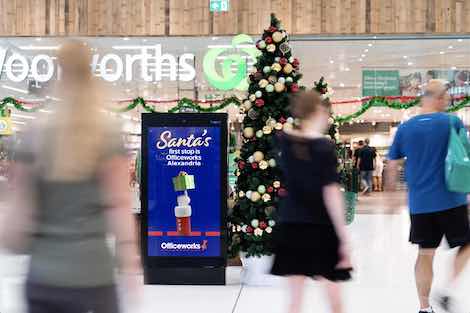 Last year, it was postal and delivery delays that drove consumers to shop early; this year it is rising costs and increased financial pressures on households. In 2021, 31% of consumers were prepared to purchase product alternatives to meet their needs. This trend is expected to continue with the latest Shopper insights study showing that customers will move beyond brand loyalty in favour of value, so pricing, and discounting strategies will be important this Christmas.
With Australians spending around $64 billion in the lead-up to Christmas (up 3% on 2021), and one fifth of that amount being spent on gifts, shoppers are getting a head start on festivities this year. Shopper's research found 6 in 10 shoppers were planning to shop early: 25% started in July and 44% will shop throughout October and November to beat the Christmas chaos and expected expense spike during the festive period. 
Karissa Fletcher, Shopper's Chief Marketing Officer, says, "While rising costs are a driver for shoppers to get in early for their holiday purchases, the convenience of shopping locally and the desire for in-person experiences remain key this festive season. Our study indicates that almost half of shoppers will shop in-store this Christmas to avoid the disappointment of the previous year's delayed online deliveries, indicating that visitation and frequency will be high in the12 weeks before Christmas."
Research conducted by Emarsys confirmed the swing towards in-person shopping last year, showing that 55% of customers preferred to shop in-store post-pandemic. This trend remains in the lead up to Christmas, with Shopper's study confirming 51% are again opting for in-store convenience.  
Australian's will continue to follow a hybrid approach to Christmas shopping, utilising online research to seek value and search alternatives, followed by in-store shopping to complete their purchases. Online sales represented less than 12% of sales during Christmas 2021, up just 1.5% from 2020. Shopper's study found 53% of shoppers prefer to buy in-store for purchases over $500, highlighting the critical role physical retail continues to play. 
"Shopping early and in-store means consumers are well informed, have compared pricing and will avoid making returns," Karissa explains. "Our study revealed that, half of shoppers will undertake research prior to purchasing gifts and 58% of shoppers will consider brands after seeing them advertised on a retail panel in a shopping centre."
Australians will continue to be generous with their Christmas spend, with 63% intending to buy three or more presents, and 1 in 4 plan to purchase more than seven gifts. But that doesn't mean Australians aren't discerning. 2 in 5 shoppers are bargain hunters and will only purchase items that are on sale, while more than one third are savvy and conscious of pre-season sale events. 
"In addition to seeking value for money, shoppers are gravitating towards goods and services that reflect their personal beliefs, with many now preferring brands that deliver evidence of social and environmental benefit, while actively moving away from brands that don't align with those values," Karissa says. 
"Advertisers should take advantage of customers hitting the shops early this year and utilise digital retail media to broadcast their story at the point of purchase, where shopper's live, make life decisions and form new habits," adds Karissa.