"Ocean Bridges the Gap with Jaguar" an awful pun but we like this install so much that we thought we'd stick with the original title of the press release.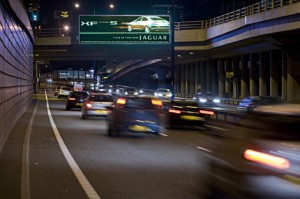 [1]Ocean Outdoor has just unveiled the first ever, giant LED screens across a four lane arterial route [2].
Located on the West Cross Route (A3220 Holland Park) the screens look directly at traffic heading to and from west central London, as well as all vehicular movement into Westfield.
Ocean's CEO Damian Cox told us "We are determined to build the best panels with whatever technology allows our clients unparalleled standout. In recent years we have seen more predictable roadside outdoor advertising, devaluing overall contractors propositions, as well as reducing client cut through and in turn ROI. Ocean will continue to change this with our newest innovations and unrivalled propositions for the outdoor market."
The site went live on 24 August 2009 with Jaguar as one of Ocean's launch advertisers