Adrian J Cotterill, Editor-in-Chief
We used the days either side of US Thanksgiving to catch up with a number of our Amsterdam speakers to see what they have in store at the #AdTECH: #OOH – Europe Conference which takes place next week on Thursday December 1, 2022.
Here's Displayce's VP Sales EMEA Marie Gaestel and Displayce CTO Hayssam Soueidan who joined us from Bordeaux, France.
Marie was persuaded to talk to the audience on why 'My First pDOOH campaign Was a Disaster' and as regular readers / our conference attendees we absolutely love story telling like this. It's actually positive and a real learning experience for all who attend.
Hayssam will take part in what will most likely be a highly charged panel moderated by Masters of Digital's Marvin Vacquier Droop ft. himself and Resono's Remco Bron entitled 'Building Trust For The Digital OOH Space. Different Approaches to Measurement'.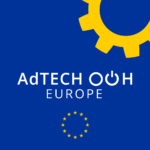 Other speakers include Sage & Archer, a Vistar Media Company's Diederick Ubels, revolt's Jeroen van de Ven, Masters of Digital's Marvin Vacquier Droop, The Neuron's Dima Nammari, First Impression audiovisual B.V.'s Helge Hoven, MyAdbooker's Sebastian Op Het Veld, Knitting Media's Tim Harvey and Resono's Remco Bron.
Registration is available here.