Adrian J Cotterill, Editor-in-Chief
Talon has announced a rebrand to reflect its strategic repositioning and global ambitions, as it enters its 10th year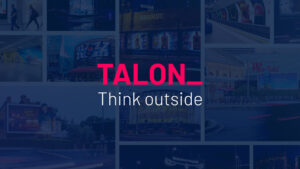 The company rebrand comes as the company continues its ambitious global expansion and commitment to being the global Out of Home media agency of choice.
We are told that Talon's refreshed manifesto and its people-first approach is driving the rebrand, which has creativity, effectiveness, measurability and sustainability at its heart. They also say that the new manifesto confirms Talon's dedication to offering its clients best-in-class planning, buying, creativity, and tech solutions, and ensuring that it delivers the best experience and outcomes for its clients globally.
Sarah Parkes, Chief Sales and Marketing Officer, told us "Talon has changed a lot in the last nine years, from our humble beginnings as an independent challenger brand in the UK OOH specialist market to where we are now – the largest independent global OOH agency with an ever-increasing international footprint. We've invested in our people, in building market leading proprietary technology, and now we have further invested in our brand. Re-booting our brand look, feel and tone of voice takes Talon's unique energy and spirit out into the world, and brings the Talon global family together with one voice."
As part of the rebrand, all existing Talon brands will be brought together with one distinct voice, including its creative arm, Grand Visual, and Plexus – the largest independent global OOH planning and buying network covering 100 markets internationally – which will rebrand to Talon International.