Adrian J Cotterill, Editor-in-Chief
Branded Cities has announced the launch of their new USD 9 million dollar digital spectacular located at 3 Times Square. Previously known as the Thomson Reuters digital display, the former six-screen spectacular has been renamed as 'The Midtown Financial' (or MiFi) for short, and has consolidated its digital presence into a massive two-screen large-format design.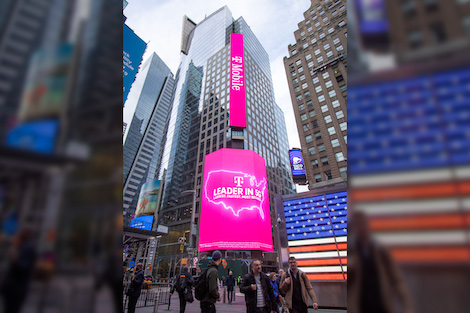 Midtown Manhattan, which contains the Times Square subdistrict, is the largest central business district in the world and is a key economic driver for New York City as a whole. The area is home to the headquarters of major national and international businesses, as well as the Nasdaq Stock Exchange.
Steve Ellman, Chairman & Chief Executive Officer of Branded Cities told us "Our media offering in Midtown Manhattan has grown significantly over the past few years and we are pleased to be partnering with Rudin Management on the re-development of this iconic digital spectacular. Now complete, brands have the ability to access over 40,000 square feet of spectacular digital and static signage through Branded Cities' portfolio in the New York market."
At over 10,500 total square feet, the full-motion digital display also marks a significant 40% increase in size over its predecessor and will provide brands with a state-of-the-art canvas for their campaigns. With its towering spire, the Midtown Financial ascends nearly 300 feet off grade, making it one of the largest and highest reaching displays in all North America. When paired with Branded Cities' digital spectacular at Nasdaq, the new TS2 (Nasdaq and Midtown Financial) delivers over 20,500 square feet of digital signage, allowing a true domination of Times Square's southern bow tie.