Adrian J Cotterill, Editor-in-Chief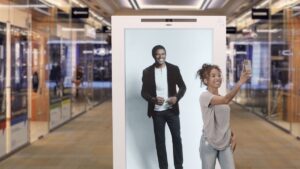 Following the news that Indian cinema chain PVR Cinemas has purchased 10 CAPSULE Hologram Displays in order to deliver new hologram experiences to moviegoers and the ARHT Media Inc. (ART.V) booth at #CES2023 is that they are repeating the offer to turn attendees into holograms at #ISE2023.
In Barcelona they will again demonstrate how holographic telecommunication can be harnessed by businesses and organisations to create a unique and engaging experience. Using ARHT Media's CAPSULE, a fully interactive, touch screen-enabled holographic display that leverages ARHT's live HoloPresence capabilities, executives and global leaders can be instantly 'transported' in holographic form in high-definition with no noticeable latency and be granted seamless interaction the kind of which to now was only achievable face-to-face.
They are in Hall 5 booth 5K660.