Adrian J Cotterill, Editor-in-Chief
Digital out of home and smart city electro station start-up Pure City has appointed DoohClick as its ad management partner. The partnership marks DoohClick's entry in the Polish OOH market.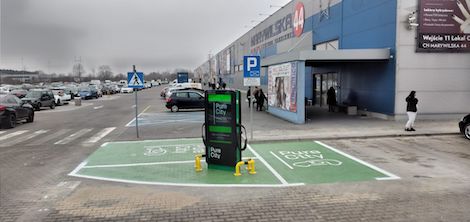 Pure City is rolling out a network of EV chargers in retail parks across Poland. The infrastructure includes a network of DOOH screens allowing advertisers to promote their brands in the unique context of green energy, improved air quality and cleaner cities.
Pure City founder and CEO Wojtek Bieńkowski told us "DoohClick will give us the complete flexibility required to manage the DOOH business as we integrate the media sales function with a programmatic first sales model and software which allows us to sell by viewers rather than retail centre footfall. DOOH is highly regulated in Poland. Digital's share of the out of home market is currently under 15% but is expected to grow rapidly by five percent per annum. Our digital screens will be the only ones in the smaller cities where we operate and our DOOH business is unique in that we are green and we are actively reducing the carbon footprint. No other operator can say that."
The network will be located primarily in consumer retail parks with upwards of five tenants, growing to 750 EV charging points in large and medium Polish cities by 2025. The stations will be accessible to drivers via the Pure City app, offering brands data gathering opportunities.
Pure City's media sales will be outsourced to a specialist OOH house. The full motion advertising network will sponsor 30 minutes of free EV charging per Pure City app user per day.