Adrian J Cotterill, Editor-in-Chief
SOS, the Boston-based company that is redefining wellness on the go through a fast-growing network of smart vending machines, is making its New York City debut at the iconic Rockefeller Center. As SOS' flagship location, the Rockefeller Center entrance is an advancement of the company's mission to provide curated, top-quality personal care products to consumers in high-traffic areas where they are needed the most.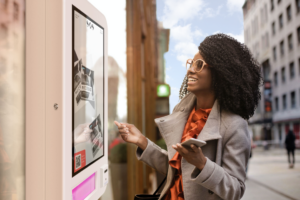 The smart vending machines are located in public restrooms throughout the Center, in addition to the Clubhouse by ZO at 1 Rockefeller Center, a gathering space and lounge for New Yorkers who work on the campus. SOS machines are equipped with a range of personal care and wellness products, including sunscreen, pimple patches and more, from top-quality brands including Megababe, First Aid Beauty, Hero Cosmetics and Tera Co., as well as always-free menstrual care products.
Susanna Twarog, SOS co-founder and co-CEO told us "Rockefeller Center is a worldwide draw with tremendous foot traffic. With New York City as a top travel destination, we're thrilled to provide visitors and locals alike with access to top-quality products they might have forgotten at home or are excited to try, in a moment when they need them the most."
Completely contactless for consumers, SOS's 32-inch LED touch screens also deliver targeted, interactive advertising and educational content when not in use. This digital component is a unique aspect of SOS machines and enables highly targeted brand-building and customer acquisition programs that help brands stand out in an increasingly competitive marketplace.
Launched in 2020 by Susanna Twarog and Robina Verbeek, SOS has grown its footprint to include prominent placement at top sporting venues like Fenway Park, FLA Live Arena and TIAA Bank Field, in addition to a variety of public spaces around Boston, including Boston Children's Hospital, District Hall, Prudential Center, South Station, and more.