Adrian J Cotterill, Editor-in-Chief
Clear Channel Outdoor is recognizing the Dr. Martin Luther King, Jr. federal holiday using their digital network.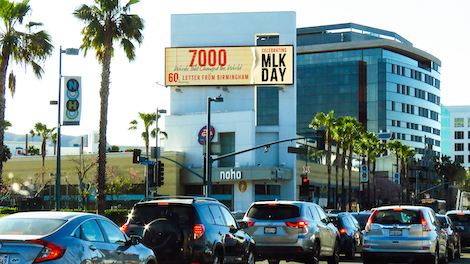 It began yesterday, Sunday, and runs on the Monday holiday in all Clear Channel Outdoor digital markets on a space available basis.
The original DOOH creative, designed by Clear Channel Outdoor corporate graphic designer Nick Abad, was inspired by King's 1963 writing of 'Letter from Birmingham Jail' which was written 60 years ago.
The design tears a page from King's unique work by using symbolic yellow notepad paper as its backdrop. For those who may not know, or may not remember, King authored this work on scraps of paper, and among those was yellow notepad paper. The piece is 7,000 words and represents persuasive prose that is now required reading in many college English courses.