The Digital Signage Federations' first Mix & Mingle of the year takes place on February 15, 2023 at the Kentucky Derby Museum and ends at Angels Envy distillery.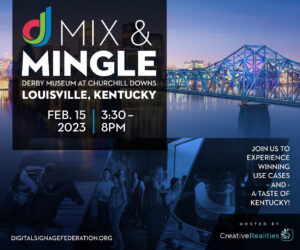 This event is being hosted by the DSF Advisory Council. Registration includes drinks, appetizers, and access to the museum and distillery.
3:00- 8:00 Table Top Exhibits with the DSF Advisory Council
3:30 PM A behind the screen look at what drives networks and opportunities for digital signage in healthcare
4:30 PM Freddy's Award Winning Digital Ecosystem- a client's view of their strategy and implementation in a QSR environment
5:30-8:00 Mix and Mingle Reception and Museum Visit featuring local bourbon drinks
7:30 After Party Distillery Tour and Tasting at Angels Envy hosted by the DSF and CRI (Ending by 9:30-10 PM); charter bus transport provided from the museum to the distillery.
Free to End User Members (membership is free too)
Free to Advisory Council and their invitees (code or membership required)
Member Ticket- $20
Public Ticket = $45
Registration can be found here.
Where to Stay?
Local hosts have suggested the Aloft, Distil, or Moxy (Marriott Bonvoy)
The Kentucky Derby Museum is located at 704 Central Ave, Louisville, KY 40208 Directions