Out of Home Media Association Aotearoa (OOHMAA) announced this week that its members' 2022 revenue was up 10% year-on-year (YOY), with the total revenue rising to $131m.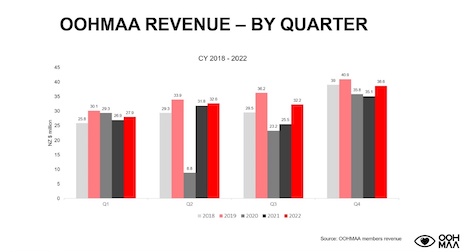 Natasha O'Connor, OOHMAA General Manager, told us "COVID restrictions and closed boards in H1 proved challenging and resulted in slower-than-predicted growth of 3.2% in H1. However, with all COVID restrictions lifted and internal borders opened, advertisers' confidence to spend returned, driving significant growth for Out of Home of 18.1% YOY in H2. We know that 2023 is going to be a challenging year due to high inflation, Russia's invasion of Ukraine, and the continued effects of COVID—especially in China impacting the supply chain; however, how challenging the year will be, differs hugely depending on what economist you listen to,".
Contribution from Digital Out of Home (DOOH) revenue share remained stable for the second year running, accounting for 67% of 2022's total revenue at $88.8m. Programmatic Digital Out of Home (pDOOH) also steadily increased its share in 2022. OOHMAA began recording pDOOH revenue in Q2 2022 when it accounted for 2.6% of DOOH revenue. By Q3, that share had almost doubled, rising to 4.3% and stabilising at 4.1% in Q4, demonstrating the potential the sector sees in this channel.
After two years of continued COVID-related disruptions, there was much hope globally that 2022 would be the year that life regained its level of normalcy. However, 2022 saw two major events happen; domestically, Auckland went back to the highest restriction level and internationally, to the horror of the world, Russia invaded Ukraine. Both these events negatively impacted Aotearoa's economy. However, OOHMAA's revenue remained resilient to these factors demonstrating that advertisers are displaying continued confidence in Out of Home to deliver to an audience.
Natasha added "Marketing is critical to businesses in normal circumstances and in an economic downturn, even more so. Advertisers with the ability, desire, or both to keep their brands in market will reap the benefits of doing so. As an industry, we are optimistic that with the strength of our channel, 2023 will see Out of Home continue to reaffirm its place as an essential channel for advertisers".
OOHMAA and its members have a number of initiatives landing in 2023 that will assist in driving growth in 2023 for the Out of Home sector. OOHMAA members JCDecaux, oOh!, and MediaWorks continue to work together with OOHMAA to enhance Out of Home measurement knowledge with a user education programme on the Calibre rolling out in H1.OOHMAA's Standardisation Committee will deliver an Out of Home Standard in consultation with key advertising agencies – this is a common set of business processes, metrics and practices that provide greater transparency and ease of transacting Out of Home. OOHMAA will also release its latest research in Q2 2023, with further activity still to be confirmed.