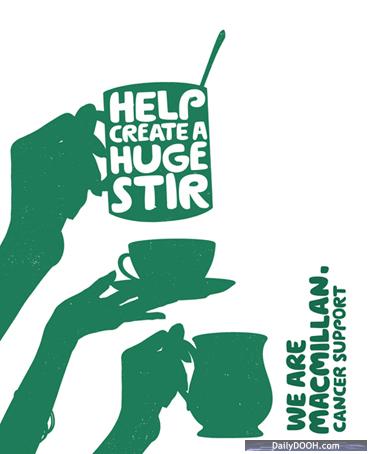 The World's Biggest Coffee Morning 2007 campaign for Macmillan Cancer Support was one of the first creative campaigns that saw a multitude of Digital Out Of Home networks unite to help promote a charitable cause.
Over 20 DOOH Networks across the UK donated airtime to playout a variety of creative executions that aimed to encourage people to hold a coffee morning raising awareness of Macmillan Cancer Support and the work it does to support people living with cancer.
In 2007 the creative focussed on extending the brand 'silhouette' idea and developing an animated identity that played on various elements of the coffee making ritual, the cup, spoon, the coffee itself and the social intricacies of a coffee morning. The campaign was a great success with eye-catching creative played out across the UK over 2 weeks in the run up to the event itself.
This year, the traditional media campaign creative is similar in that the silhouette idea remains but in a more forceful call to action style – 3 arms are raised proffering 3 different types of coffee cups in a 'coffee salute'.
My team at Amigo Digital are currently working on the creative for this which will consist of teaser executions as well as a fully animated campaign – our aim is to innovate and gain awareness through the creative idea as much as through the mass of publicity – a challenge in itself.
http://www.coffeemorningregister.org.uk/