Adrian J Cotterill, Editor-in-Chief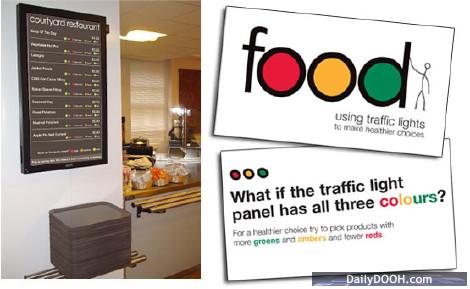 We REALLY like this simple but very effective Digital Menu Board installed by Beaver Solutions at St Pancras Hospital…
Beaver Solutions have provided St. Pancras Hospital, managed by the Camden Primary Care Trust, with a portrait-mounted digital menuboard for their newly re-furbished restaurant. A second digital signage screen has been installed to provide news from sources such as the BBC, healthy eating advice and hospital news.

Using Scala InfoChannel, it is possible to edit items on the menu items dynamically, and to make any price amendments as needed. Content on the information channel can also be edited using the content management tools in Scala. By using dynamic news and other data feeds, the day-to-day management requirements to keep the system up to date are vastly reduced.

The menuboard uses a traffic light system to indicate the levels of fats, saturates, sugar and salt so visitors to the restaurant are able to make better informed decisions about the food they buy. These traffic light symbols are content managed along with the menu items, allowing the hospital to make quick and simple changes to all aspects of the menuboard.
Simple and effective and a good advert for pure Digital Signage. 10/10 from us!!