Adrian J Cotterill, Editor-in-Chief
We all know that in the marketing world, social media, podcasts, search engine ads, and #AI created ad copy generate a good deal of buzz, yet, when it comes to courting consumers, a more traditional medium reigns supreme, out of home advertising.
According to new survey results from the Out of Home Advertising Association of America (OAAA) and Morning Consult, nine in ten adults (88%) notice OOH ads and nearly 80% of those viewers are inspired to take action, based on the November 2022 poll of 1,461 adults.
Anna Bager, President & CEO of the OAAA told us "Out of home advertising has a massive, geographically unique reach, meeting consumers in the moment and enhancing their journey. From billboards of every size and type, to bus stops and transit systems, to ads at movie theaters and digital screens at sports stadiums, out of home media amplifies brand awareness and delivers strong business results. It's crucial that brands take an inclusive stance with their advertising. This goes beyond representing minority groups in campaigns and includes hiring diverse teams to conceptualize and create the ads".
Consumers respond to OOH ads
While most ad formats interrupt the consumer journey, OOH advertising organically permeates the path, complimenting the consumer experience. As such, it's no surprise that the format earned higher net favorability than all forms of digital media, radio, podcasts, and streaming audio, with billboards surpassing all other ad types in the fight for favorability.
This cachet comes to light in the myriad of ways that consumers notice and engage with the medium. Of the 88 percent of consumers who notice OOH ads, 78% have recently engaged in some way. Over three-quarters (76%) used a mobile device to learn more about a product featured in an OOH ad, just over half (51%) used their mobile device to search for more information about an advertiser, and 43 percent made an online purchase.
Many OOH ads also morph into online content, extending ad campaign reach, with one in seven viewers snapping a photo and sharing it on social media.
Among the 30 percent of adults who recently noticed an OOH ad that gave directions to a store or business, 43 percent visited the store, business, or restaurant within 30 minutes of seeing the ad, and 78 percent of those visitors made a purchase.
Inclusion is essential
Survey responses also reinforced the importance of creating OOH ads that represent an increasingly multicultural population. Nearly six in ten Black, Asian, and Hispanic American consumers said they are much more likely or somewhat more likely to notice an OOH ad that reflected their cultural identity, compared with about one in four white adults.
Ad spending on an upswing
Growth in OOH ad spending has been on the rise of late. In the third quarter of 2022, advertising revenue increased 11% compared to the previous year, hitting $1.94 billion, according to OAAA research. Apple, McDonald's, Samsung, Amazon, Google, Paramount+, American Express, T-Mobile, Panera, and Dunkin were the top 10 advertisers for that period.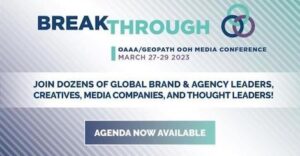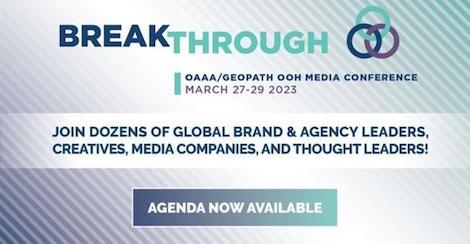 The OAAA will release year-end spending statistics for 2022, additional research, and details on emerging technologies that break down the physical-digital ad divide during the OAAA/Geopath OOH Media Conference which takes place in Nashville March 27 to 29, 2023.