Adrian J Cotterill, Editor-in-Chief
The AdTECH: OOH – Miami Conference takes place on Wednesday April 19 as part of #OOHMiami and #MiamiTech.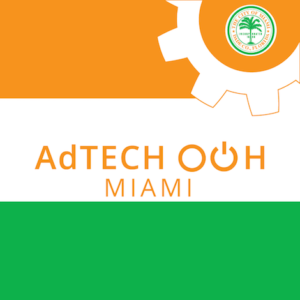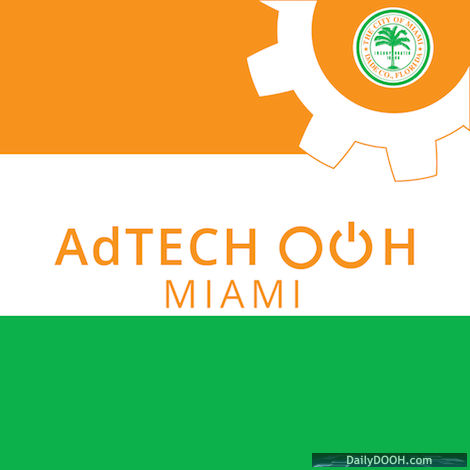 As with the inaugural event in 2022, the agenda has a great LATAM feel to it and we are delighted that VIOOH's CEO JC Conti and JCDecaux North America's Head of Programmatic Brendan Donoghue will be flying in to present the keynote 'How To Incorporate LATAM in Global Campaigns'.
JC told us "As Latin America continues its growth as an emerging region, advertisers in other markets want to understand best practices to incorporate LATAM in global campaigns. Brendan and I will tell you about the growing importance of programmatic DOOH in the Latin America market and how airport inventory, like Miami International Airport, is the gateway to the Latin American market".
The agenda of course also includes plenty of local and regional topics including Swire Properties Director of Retail Marketing and Communication Michael Sneed, who will be talking about the 'Transformation of Brickell City Center' alongside Pearl Media's Joshua Cohen whose company was awarded the exclusive marketing and media rights to current and future Out of Home Media Assets at the highly trafficked Brickell City Centre in Miami late last year. We also have the Florida Panthers' Chief Operating Officer Bryce Hollweg who will be on stage with SOS' Head of Strategy and Growth Julian Chu.
At the recent OOH2023 OAAA Conference in Nashville, the OAAA launched a Morning Consult OOH study with a focus on multicultural and as they continue to build on OOH UNITED initiatives going forward the OAAA's Head of Industry Initiatives Jeff Jan has kindly agreed to present 'The Growing Importance of DEI in OOH' ahead of our own panel discussion on 'Diversity, Equity and Inclusion', which will be moderated by WiConnect's Silvia Prado.
The advertising industry has been continuously evolving to reflect the diverse and changing landscape of the world we live in. Diversity, equity, and inclusion (DEI) have become an essential aspect of marketing campaigns, and advertisers are increasingly seeking ways to create content that resonates with multicultural audiences. As a result, Out of Home advertising has become an increasingly important and effective medium for reaching diverse audiences. In these two sessions, industry leaders will share their insights and experiences on how the OOH industry has evolved and how it can continue to improve in terms of DEI representation and the solutions that create more inclusive campaigns.
Silvia will be in discussion with Alma's CEO Isaac Mizrahi, Havas Media Group's SVP, Strategy & Multicultural Liliana Caro and Zenith's Vice President, Multicultural Ana Crandell.
Continuing with the theme of LATAM, Hivestack's Publisher Solutions Director, LATAM Victor Perez Campos will be talking to PIXELED's Head of pDOOH Jose Luis Lopez and MediaMath's Client Success Director Mónica Chaves Falla about 'The Nuances of Working in AdTECH Across LATAM'.
To end the day Aspex Eyewear's Vice-President of Sales & Marketing Felix Sides will be discussing with Vistar Media's Senior Vice President of US Demand Lucy Markowitz how the brand leveraged Vistar Media's Proximity Targeting Capabilities.
Now in its second year this half day conference is once again chaired by Yahoo's Global Head of DOOH Stephanie Gutnik and will take place at the Emanuel Luxury Venue, a versatile event space in the Art Deco neighborhood of Miami Beach opposite the street from the South Beach Convention Center where eMerge Americas takes place on Thursday and Friday.
Registration is open now and can be found here.
AdTECH: OOH – Miami is sponsored by Broadsign, Hivestack, OAAA, Pearl Media, Talon, VIOOH and Yahoo!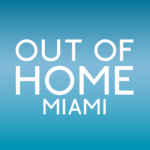 **OOH Miami includes…

Beyond Ordinary Events, Inc.'s POSSIBLE Event April 17-19, 2023 at the Fontainebleau Miami

The DPAA LATAMDOOH / MIAMI 'DOOH Cross-Border Learning & Cocktails' takes place 16:00 – 18:30 EDT on Monday April 17, 2023 at the Fontainebleau Miami  more information can be found here.

Wednesday April 19, OAAA Networking Breakfast at 08:00 EDT at the Fontainebleau Miami.

Wednesday April 19, AdTECH: OOH – Miami Conference 13:00 – 18:00 EDT

Wednesday April 19, The Daily Drip 'Leading Between The Lines' Live with the DPAA, 17:00 – 20:00 EDT more information can be found here
You can check out all the other exciting #MiamiTech events happening in South Florida during April 2023 here.