Adrian J Cotterill, Editor-in-Chief
Outsmart, the trade body for the Out-of-Home advertising industry in he UK has announced that overall OOH revenue for 2022 saw growth of +31% year-on-year with total revenues of GBP 1.2bn.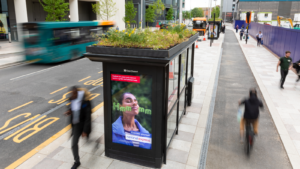 Justin Cochrane, Chair of Outsmart told us "2022 was a positive year for Out-of-Home, and we now look forward to getting back to strong long-term growth, growing Out-of-Home's share of media through collaboration and investment, helping us to enhance both the medium's performance and accountability."
The figures, collated by PwC, show that Q4 contributed GBP 346 million towards annual OOH revenues, up +3.2% compared to Q4 2021.
Digital Out-of-Home had another year of significant growth with an increase of +30% and accounted for 63% of total OOH revenue in 2022. Classic OOH revenues increased even more with +33% on the year.
You can visit the Outsmart website to download a detailed breakdown of OOH revenue figures.