Adrian J Cotterill, Editor-in-Chief
The Ben Kinsella Trust is launching an innovative new machine learning campaign this Mother's Day (in the UK), to raise awareness of knife crime. The push was developed by M&C Saatchi PLC' (LON:SAA) and Clear Channel UK.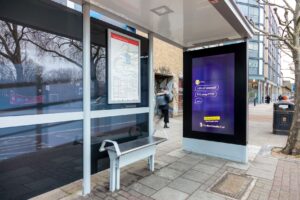 M&C Saatchi London worked with Clear Channel to develop a machine learning system which was trained to understand what an ambulance siren sounds like. 
Every time an ambulance drives past, or is in close proximity, its siren triggers the technology installed to show powerful messages from mothers to their sons, making the connection between ambulances and the genuine worry mothers have when they hear one stronger and more powerful than ever before.
Jonathan Acton, Head of Creative Delivery, Clear Channel, said "As soon as we heard about this amazing idea, we knew we had to build it. By using machine learning we have enabled the digital out-of-home bus shelters to adapt the creative to change when they 'hear' a siren. We're using technology to bring this important campaign message to life in a dynamic way that has never been done before, to really engage passers-by."
The campaign involves 1,000+ live digital billboards and Adshels across the UK. Some showcase the thoughts and fears of mothers, while others ask sons not to carry a knife this Mother's Day. This is supported by organic social media activity.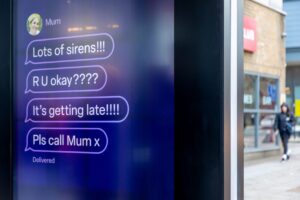 Last year, 315 people were admitted to hospital with knife-related injuries around Mother's Day. Sadly, too many didn't make it home. This campaign aims to raise awareness of the dangers of knife crime, highlighting the thoughts that go through a mother's mind whenever she hears the sound of an ambulance siren.
Guy Bradbury, Creative Partner, M&C Saatchi London, told us "Much of the dialogue around knife crime is focussed on those who are directly involved, or on the government's response. In this campaign we wanted to shine a light on its devastating impact on those who are left behind, handing over poster sites to the one person our audience might listen to: their mums."
The poster campaign is based on anxious messages and text exchanges between real mothers and their sons imploring to them to stay safe and not to carry a knife.
This campaign is a follow up to M&C Saatchi and the Ben Kinsella Trust's award-winning 'Shout out to my son' radio campaign which ran in 2019. The radio adverts featured mothers making emotional pleas to their sons to stop carrying a knife.
 
The Ben Kinsella Trust 'Siren Poster' campaign credits

Creative agency: M&C Saatchi London
Creative Partners – Guy Bradbury and Matt Lee
Creative team – Sara Mullane, Becky Brice, Nathan Bunting
Design and Motion Graphics – Elliot Pavesi
Account Director – Katie Mandel
Producer – Ihsan Kemal

Clear Channel
Head of Creative Delivery – Jonathan Acton
Senior Project Manager – Iona Joy
Creative Agency Account Director- Jason Jarvis
Creative Technology Consultant – Arthur Tindsley
Creative Technology Engineer – Jason Prout
Client: Patrick Green, CEO, The Ben Kinsella Trust