The Canadian Out-of-Home Awards has solidified their panel of accomplished industry moguls, from big brands to creative and media agencies. These astute professionals consist of marketing CMOs, Presidents and VPs, and their experience provides a multitude of perspectives while considering the award-worthy campaigns submitted.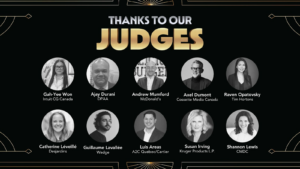 "When reflecting on potential judges, our awards committee wanted to ensure we were including a variety of professionals from every corner of our industry," says Amanda Dorenberg, President of COMMB. "It's important that the Canadian Out-of-Home Awards consists of panelists who are not just experienced in visual design, but also understand the OOH medium, its capabilities, and what truly makes a successful campaign."
Ajay Durani – Vice President of Marketing, DPAA
Andrew Mumford – Senior Manager of National Marketing, McDonald's
Axel Dumont – President, Cossette Media Canada
Gah-Yee Won – Head of Media Innovation & Growth Marketing, Intuit CG Canada
Guillaume Lavallée – Lead Designer, Wedge
Luis Areas – Director & Chairman of the Media Directors' Committee, Association of Creative Communications Agencies (A2C Quebec) / Vice President of Strategy & Business Development, Cartier
Raven Opatovsky – Head of Media & Digital Marketing, Tim Hortons
Shannon Lewis – President, Canadian Media Directors' Council (CMDC)
Susan Irving – Chief Marketing Officer, Kruger Products L.P.
Catherine Léveillé – Senior Media Strategy Advisor, Desjardins
Catherine Léveillé, Senior Media Strategy Advisor at Desjardins, shares her enthusiasm towards the gala, as well as her participation as a judge: "I am very excited to be joining the panel of judges for the launch of The Canadian Out-of-Home Awards. This event is a great opportunity to gather as an industry and showcase how much OOH has to offer within a media mix or as a stand-alone media. I am also thrilled to be exposed to this new innovative, creative, and insight driven OOH campaigns that have shined in various cities across Canada."
As COMMB's media partner, BNN Bloomberg is featuring the inaugural awards on their website, where you can find the judges' panel as well as additional event information here.
The Canadian Out-of-Home Awards gala will be an all-encompassing industry celebration recognizing the creative, technical, and strategic achievements of agencies and advertisers for their out-of-home campaigns. Winning categories will be focused on innovation, data, use of programmatic/digital technology, audience targeting, 360 planning, and more.