Welcome to the 2023 OAAA/Geopath OOH Media Conference! It's great to be with everyone today. We're thrilled that over a thousand OAAA members and their partners have registered for the conference.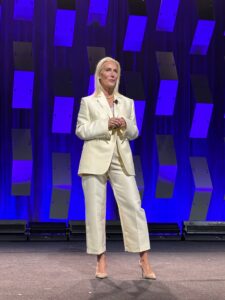 Today, I'm looking forward to sharing all of the breakthrough moments we've had as an industry over the last year. "BreakThrough" is, of course, our theme – and I want to start off by sharing two stories that personally inspired me this year, which showcase incredible breakthrough moments for our industry. 

The first begins February 26, 2022, soon after Russia invaded Ukraine. That Saturday evening – just before heading out for a date night with my husband – I took a quick look at my email, which is something I am sure we're all guilty of doing sometimes, but in this instance, I'm so glad I did.
What I saw, was a note from OUTFRONT's Jodi Senese, that soon became a rallying cry. Jodi asked how we, as an industry, could come together and support Ukraine. Clear Channel's Dan Levi and Lamar's John Miller were also included in this message, and in less than an hour, we had a plan.
Working together – along with many of you – OAAA members quickly produced and distributed assets – and in less than 24 hours of Jodi's initial email, "United We Stand with Ukraine" messages were spread across the U.S. and, later, throughout the globe.
The whole industry united for a common cause and produced meaningful results. Not many times in my career have I been as impressed or felt so much pride.
No other medium can reach global audiences in such a short time and make such a difference. A massive thank you to all who were involved.
The second story I want to share, happened only a few weeks later. Mike and Chris Zukin from Meadow Outdoor connected with me about a relative of theirs who is a doctor in Ukraine. This doctor shared details about the horrific situation unfolding for pregnant women, newborns, and young children.
Chris and Mike spoke to our board, stressing the importance of us working together on this cause. Ultimately, we raised useful funds for not just one doctor, but for many others who so badly needed it. Thank you, Mike and Chris, for being so proactive.
These examples show out of home's power and potential, AND they showcase the incredible things that are possible when OAAA and its members come together.
When we come together we can truly break though. We can achieve big goals, as proven by the many successes in the last year. We enter this conference from an incredible place of strength.
I'm thrilled to announce that our 2022 ad revenue surpassed our 2019 record-breaking year. Revenue soared nearly 21% to a landmark $8.6 billion. Not only were we the fastest growing ad medium in 2022 – we're also predicted be one of the fastest growing ad media in 2023.
This is a huge deal. Let's take a moment to savor that.
We have the right to feel proud – our hard work has paid off. But we can never rest on our laurels, there is so much more to accomplish, and we are uniquely well positioned to do so, RIGHT NOW.
According to MAGNA, out of home spending is expected to rise 7% this year. I believe we'll achieve that — and so much more.
Proven by the increased dollars coming our way, out of home is a vital component of an effective marketing strategy. We are no longer considered a niche medium or a supplemental tactic by brands, who seem to know NOW what we always have – when they put OOH at the center of their media plans, they succeed.
We can quickly activate on a mass scale. And we connect to audiences that nobody else can.
According to The Harris Poll, each month about 90% of US adults see our messages. We also generate the highest ad recall of any medium.
That makes us the ideal solution as marketers need to break though and drive business results more than ever before.
Our strengths led to an incredibly successful 2022. But to truly break through, we must realize that we live in a new world and new rules apply. We can never stop being curious. We have to keep innovating. We must fully embrace technology, from analytics to AI.
We need to tap into the creator economy — while also capitalizing on the opportunities that come with consumers' desire for real world experiences. We need to more clearly prove our amazing audience reach and tout the ROI we deliver.
At the same time, we need to make strides in sustainability, equity, and our contributions to the world at large.
We need to keep evolving and innovating to meet the ever-changing needs of today's consumers and brands.
I'm optimistic – yet I know we are also in a tough economy. 2023 will be a different year for us, and for our clients, but we ARE in a good position. In times like these, marketers are looking for proven solutions, that deliver real results, with minimal waste. 

We can use that to our advantage. In fact, it gives us an edge.
Out of home is a proven solution when leaders need to focus on the bottom line. We provide a rare mix of creativity, brand safety, and mass appeal. We also offer surprise and serendipity in a world of hyper-targeting and algorithms.
And as marketers such as Airbnb and Expedia pull back on performance advertising and increase focus on brand advertising, we offer platforms that can deliver exceptional results.
Given our enviable collection of superpowers, now is the time to feel emboldened. To break through.
As other mediums are facing headwinds and some uphill battles – WE are becoming stronger.
Broadcast and local television continue to lose audiences as streaming becomes dominant. Streaming is great for content, but not necessarily for advertising messages. The shift to connected TV advertising is causing measurement and consumer experience chaos. Meanwhile, digital media is riddled with issues, including the surging use of ad blockers.
According to MasterCard CMO Raja Rajamannar's recent ANA speech, there are 630 million active ad blockers in use.
That's a lot of people blocking ads.
Yet, we're still bombarded by messages — about 5,000 a day, says Rajamannar.
Humans have a mere eight-second attention span. In turn, we only remember two messages the next day.
I bet those two messages are from out of home ads.
It doesn't stop there, targeting capabilities are on the decline.
We've all been following the effect of signal loss in digital advertising, as mobile ID's — and soon cookies — will go by the wayside.
In contrast, our industry has increasingly provided better solutions using data for more sophisticated ad messages and placement.
Meanwhile, the pressure around privacy from regulators and consumers will increase. And while we are watching this closely, it's not an urgent issue for US as a medium. 

Let's make sure we avoid some of digital media's thorniest issues, especially around fraud and privacy. We must learn from those mistakes. And not repeat them.
It's up to us to seize this opportunity now and set ourselves up for future success. We can each make strides individually, but to truly break through, we must come together as an industry.
We must make sure we have a clear understanding of what advertisers want, how we can best help them thrive, and consistently refine our pitch.
We have to evolve together. We have to sell together. We must unite. 

On our own, we can be small and siloed, but together – we have wider reach than anyone.
Together we are stronger, and together we can activate in 5 critical ways that will propel us forward.
All of these elements are equally important and inter-dependent.
The first is creativity.
As an industry, we understand that creativity comes in many forms — from visual design to media placement to strategy.
We need to take that understanding and shepherd it into a creative renaissance. We can do that by fully capitalizing on our digital and static capabilities, and also by embracing the booming creator economy.
We offer creators an unparalleled platform to showcase their work, and marketers can tap into the creator talent benefit as well.
According to research OAAA has done with Morning Consult, about a third of adults are more likely to purchase a product or service if an influencer, creator, or celebrity they're familiar with appears in an out of home ad.
The second is digital.
We must put a greater emphasis on digital transformation. We've made tremendous strides here — but not enough.
Digital is what drives our growth. It's an integral part of our future.
Advances in this area increase our speed to market and our ability to connect with consumers in more engaging ways.
It helps us leverage data and seamlessly tie in with other channels.
And, it allows us to meet marketers' needs for efficient ad buys, real-time messaging, and more detailed performance metrics.
In short, digital helps us to better deliver on every aspect of our business.
We must keep on top of the latest advances and integrate them into our work streams.
If we don't, it will be at our peril.
Third is the experience economy.
We must fully capitalize on consumer hunger for real life experiences. 

After years of staying put, consumers are back in the world in full force, spending heavily on in-person experiences. And unlike any other medium, we are out there, right next to them. Out of home is intrinsically where consumers are and want to be. Let's help marketers take advantage of pent-up demand and the surge of consumer spending in this area.
We offer the unique ability to create immersive experiences that differentiate brands from their competitors.
This is our sweet spot. Let's own it.
The fourth is commerce.
The retail economy is booming. The time is now to seize this opportunity.
Recent research confirms effectiveness in this area:
Over 40% of adults say out of home ads have an impact on their in-person buying decisions.
And one third recently made a purchase on their mobile device after seeing an out of home ad.
Those are significant numbers.
Marketers are looking for pioneering and effective ways to reach consumers. We offer the ROI they need. Let's go show it.

Last — but not least — is community.
Out of home has access to audiences like no one else. We can reach communities far and wide – from hyper local to local to regional to national to global.
Whether public service, commerce, advertising, or just for the fun that comes with reaching and moving people – OOH can participate in culture and connect communities.
We are a proven solution as marketers such as P&G expand their multicultural outreach.
According to OAAA/Morning Consult data that we just released, nearly six in 10 Black, Asian, and Hispanic American consumers are more likely to notice an out of home ad that reflects their cultural identity.
By focusing on these five critical areas, we can help brands win new customers — and achieve material growth — in a way that nobody else can. This is especially important in an economy where everyone is looking for new opportunities, audiences and efficiencies.
Envision our power when we work together.
We can give marketers the ability to reach anyone, anywhere – to send signage into any community. Out of home can operate at the speed and precision of the most advanced forms of digital media and has tremendous effectiveness.
Our potential is truly limitless. 

We can succeed if we unite around our common goals. Now is our time, we have momentum.
The Ukraine campaign alone shows what a difference we can make in the world when we come together. It's okay for us to have competing interests and different perspectives. As long as we align in rooms like this, and across the varied OAAA initiatives you, our members, make possible, we will achieve the overarching goals that set us all up for success.

Let's learn from our record-breaking 2022 and expand on that. Let's remain curious about the world around us. Let's continue to modernize our industry.
It's time to unite and achieve even more.
Working together is how we'll all break through. Thank you.
2023 State of the OOH Industry Speech
OAAA/Geopath OOH Media Conference
Nashville, TN
Tuesday, March 28, 2023