By now you will know that the first ever Canadian Out-of-home Marketing and Measurement Bureau (COMMB) Awards Gala Awards takes place on May 25 between 13:00 – 18:00 at Arcadian Court 401 Bay Street, Simpson tower 8th floor, Toronto ON, M5H 2Y4.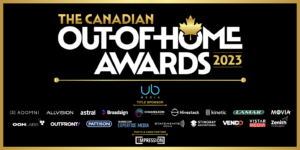 It has already garnered huge amounts of interest from agencies, brands, and operators in the out-of-home advertising space and is promising to be a truly great celebration of the industry. The event will provide ample opportunities to network but attendees will also get to experience; immersive experiences designed to activate your senses, themed cocktails, a photobooth, a DJ and MC and bars (yes plural).
There will also be exclusive raffle prizes from prestigious brands such as Sephora, Tiffany's, and Harry Rosen, all of which are surely guaranteed to generate enthusiasm amongst those who attend.
Sponsors inlude UB Media, Adomni, Allvision, Astral, Broadsign, Chameleon Digital Media, Hivestack, Kinetic, Lamar, Movia Media, OOH LABS, OUTFRONT, Pattison Outdoor, Quebecor Expertise Media, Statements Media, Stingray Advertising, Vendo Media, Vistar Media, Zenith, and multimedia partner 1mpression.
UB Media is the Title Sponsor for the gala and will be commemorating an illustrious 15-year milestone in the industry. Attendees are told to "prepare for an unparalleled celebration as UB Media leaves an indelible impression with its brand throughout the festivities, promising a truly unforgettable experience".
Hivestack, is the Experiential Sponsor of the gala and is planning an unforgettable experience for the audience as well. They have joined forces with Derooted Immersive, an award-winning studio specializing in cutting-edge technologies, for the event.
Winning categories will be focused on innovation, data, use of programmatic/digital technology, audience targeting, 360 planning, and more.
You can buy tickets to the event here.
#ff @UB_Media @AdomniOfficial @allvision_io @AstralOOHab @Broadsign @Chameleon_DM @Hivestack @KineticOOH @moviamedia @statementsmedia @OUTFRONTCanada @pattisonoutdoor @Quebecor @_mediaexperts @VendoMediaInc @vistarmedia @ZenithCanada @1mpressionMedia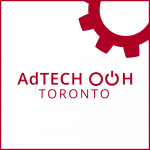 Now in its third year the AdTECH:OOH – Toronto Conference is once again chaired by Yahoo's Global Head of DOOH Stephanie Gutnik and will take place at the Scotiabank Theatre, 259 Richmond St W, Toronto, the day before the Gala Awards.
AdTECH: OOH – Toronto is sponsored by Broadsign, COMMB, Cineplex Digital Media, Hivestack, Talon, Quotient and Yahoo!