Adrian J Cotterill, Editor-in-Chief
Kinetic, DOOH.com and EssenceMediacomX launched a major national 3D Out of Home campaign for Maybelline New York Surreal Falsies Mascara this past April and May.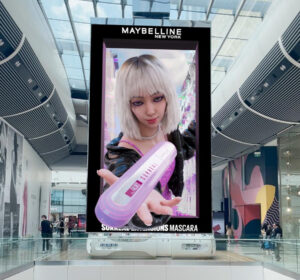 It ran on over 280 sites across small and large format screens, the campaign was described as the largest #3DOOH campaign ever run in any market in terms of scale.
Andrew Newman CEO DOOH.com said "This is the largest 3D campaign, in terms of scale, any market has seen. This is a colossal achievement and one that aligns with our industry commercial principles of reach. 3D DOOH at scale is the next evolutionary step of forced perspective creative and sets a new bar. A massive thank you to the media owners for ensuring the 3D elements were a success on screens of all sizes."
The 3D content ran in multiple environments including high streets, shopping malls, rail stations alongside spectaculars such as the Panoramic Banner at Manchester Arndale Shopping Centre.
Targeting a Gen Z and younger millennial audience, the campaign which ran in 10 and 20 second versions, features 'May', a digital avatar invented by Maybelline and whose 3D form was built by DOOH.com, emerging in three dimensions from the digital screen. Each screen was carefully chosen based on its prime viewing angle to enable the creative to look as though it is breaking the boundaries of the screen site, regardless of where a viewer is standing.
Artemis Christodoulou, Account Manager, Kinetic told us "We are beyond excited to see Maybelline Falsies Surreal Mascara live nationally across multiple OOH formats and environments! This campaign is the first of its kind, with months of planning and detail to ensure that May's avatar is brought to life across 3D DOOH screens at a mass scale. It's wonderful to see beauty brands like Maybelline pave their way into this space and fully utilise the creative opportunities that OOH offers".
May, and the broader The Falsies Surreal Extension Mascara campaign, also hit TVs across the UK supported by online content globally. The Out of Home element of the campaign was designed to reach an even bigger audience and drive mass awareness of Falsies Surreal Extension Mascara.
Delphine Consigny, Marketing Director Maybelline UKI was quoted as saying "3DOOH was the natural fit for this campaign which is routed in a 'surreal' metaverse storytelling. The 3DOOH is achieving a deeper connection between our brand and a valuable, diverse audience through eye catching content in environments where they are primed to make purchase decisions".
The 3D element of the campaign ran from 17th April – 7th May. Media owners were JCDecaux, Clear Channel, Ocean Outdoor and Open Media.