Adrian J Cotterill, Editor-in-Chief
Leading digital outdoor media company QMS has won the tender to manage the Australian Rail Track Corporation's (ARTC) out of home assets in Sydney, effective 1 May 2023.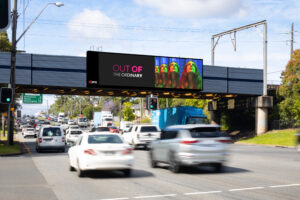 QMS Chief Executive Officer, John O'Neill told us "We are very proud to partner with the ARTC to manage and develop its out of home assets as a key part of our growing Sydney offering. The ARTC network covers high-impact and high-value locations that complement our existing premium Sydney portfolio, including the world-class City of Sydney digital street furniture network. The new agreement is in alignment with our strategic focus of continuing to expand our digital network throughout Sydney. There is a clear opportunity to incorporate the ARTC as an important part of our growing national, premium digital network that our customers are increasingly embracing".
The appointment, which followed a competitive tender process, covers 10 large format billboards in Sydney. Key locations include Princes Highway, Tempe, along with Joseph Street, Lidcombe, and Marrickville Road, Sydenham.
ARTC Chief Executive Officer and Managing Director, Mark Campbell said "We are pleased to join forces with QMS, which has a proven track record of success in the out of home industry and a proven ability to enhance and upgrade assets and create new opportunities. QMS' expertise in digital, audience insights, marketing and creativity will be a winning combination in re-launching our out of home locations to take full advantage of the huge audiences that pass them".
As part of the new long-term contract, QMS will look to convert some of the key locations into digital sites as well as develop a number of new greenfield locations.