Adrian J Cotterill, Editor-in-Chief
DPAA, the global trade marketing association, driving the growth and digitization of out-of-home media and its growing role in the omnichannel mix, has announced that Toronto based Soundpays has joined the association.
Soundpays describes itself as a next-generation mobile-engagement solution that fundamentally transforms the capabilities of OOH, DOOH, as well as traditional media advertising. The company utilizes its patented ultrasonic sound technology to digitally connect mobile devices to OOH, DOOH, TV and radio content in real time.
Advertisers can now provide actionable offers directly from their OOH and DOOH ads. Viewers can engage with the displays/broadcasts and interact via 'in-the-moment' responses to calls-to-action, including single-touch purchases, directly from the content that they are seeing or hearing.
Ziad Feghali, SVP at Soundpays told us "We are extremely excited to be joining the DPAA community. We believe that we can contribute to the DPAA ecosystem by providing our leading-edge technology along with the experience gained from our previous deployments. At the same time, we look forward to interacting with the community to learn about current experiences, hurdles and aspirations of the member companies. We want to play an integral part in the industry's drive for innovation and advancement."
The Soundpays solution addresses some of the engagement, actionability and data generation shortcomings of traditional media vs digital advertising. Soundpays is making it possible for OOH and DOOH advertisers to measure audience responses to their content, level-of-interest and intent-to-purchase inclinations from OOH and DOOH audiences to degrees that were formerly only possible through digital site experiences.
Barry Frey, President & CEO of DPAA told us "Technology and digital innovation are key components to growing out of home advertising. We look forward to Soundpays participating in our global membership and engaging with existing members to jointly find great solutions for enhanced audience engagement."
Soundpays is a mobile engagement solution utilizing patented ultrasonic sound technology to enable a real-time, actionable and shoppable experience from content displayed on traditional media. Providing an omni-channel capability, the solution digitally connects a mobile device to OOH, DOOH, TV, radio or audio advertisements. It then elevates the viewer experience by making it digitally interactable/shoppable in real time, while delivering advanced attribution and level-of-interest metrics.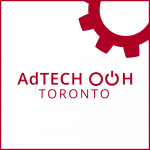 You can meet the Soundpays team at the AdTECH:OOH – Toronto Conference on May 24.
Now in its third year the event as usual is chaired by Yahoo's Global Head of DOOH Stephanie Gutnik and will take place at the Scotiabank Theatre, 259 Richmond St W, Toronto, the day before the Gala Awards.
AdTECH: OOH – Toronto is sponsored by Broadsign, COMMB, Cineplex Digital Media, Hivestack, Talon, Quotient and Yahoo!