Adrian J Cotterill, Editor-in-Chief
When you think of iconic vehicles, the Volkswagen Bus is probably one of the first on your list. Its unique look stands the test of time and is one of the most culturally relevant automobiles there is.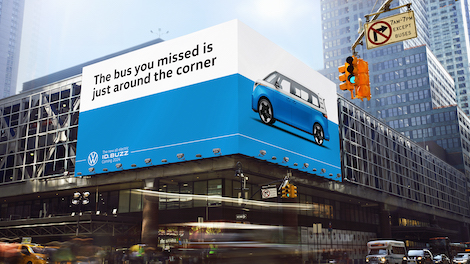 Inspired by the original VW Bus, the global car manufacturer revealed its 21st-century, fully electric remodel, the ID. Buzz, in the American market on June 2 (it will be available for purchase in 2024).
With the VW Bus inspiration, the ID. Buzz reboot has been modernized as an electronic vehicle (and includes air conditioning this time around), and its three-row longer wheelbase is designed to better cater to the American demographic.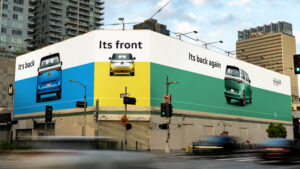 To support last week's Huntington Beach, CA launch the VW marketing team debuted a paid media campaign to extend beyond the event itself. As an iconic nod to VW's past and a statement on its vision for an EV future, the intent of the campaign was to elevate the moment beyond just the vehicle and make it a bigger VW brand moment. It wasn't just another car reveal, but the rebirth of one of the most iconic cars in American history, the original VW bus.
Rachael Zaluzec, SVP Customer Experience & Brand Marketing at Volkswagen of America told us "This reveal is one of the most iconic moments in VW history in the US. There is literally no other vehicle like this one on the road today, and we can't wait to see drivers experience the ID Buzz, reimagined for the electric future."
The creative work took over key bus routes (playing off the contextual relevance of the original 'Bus') and many other placements across LA and NYC – the work announces that the VW bus is back, and celebrated the optimism, color and happiness that it brings into the world.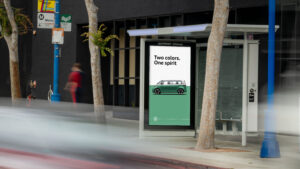 Jonathan Santana, Executive Creative Director of Johannes Leonardo said "We're thrilled to have a hand in introducing an automotive icon, one that honors the importance of the rebirth of one America's most beloved and iconic vehicles. Our goal was to make the campaign as simple and iconic as the original bus. Centered on its classic two tone paint job accompanied with smart witty headlines in true VW style, we reacquaint America to this original spirit, now gone electric."
As one of the most beloved vehicles in automotive history, the creative focuses on what is simple, ownable, and iconic about its reincarnation, its two tone paint job. The campaign was teased out to the public on Monday, May 29th, featuring digital OOH that shows just two tone colors (no car) to create intrigue and excitement of what's to come. On Friday, June 2nd, in line with the ID. Buzz Reveal in Huntington Beach, the OOH focused campaign formally went live, replacing the tease OOH and including additional print placements.