Adrian J Cotterill, Editor-in-Chief
DPAA, the global trade marketing association, driving the growth and digitization of out-of-home media and its role in the omnichannel mix, announced today that Quividi's Denis Gaumondie, Chief Marketing Officer and Mitchell Wade, VP of Sales for North America will address its members at the June 7 Research, Retail and Tech event.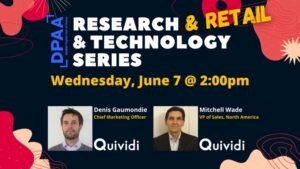 "Retail media and in-store retail networks are the latest front in DOOH advertising," said Barry Frey, President & CEO of DPAA. "Quividi is a strong player and was early in this area, we look forward to them sharing their experiences with the rest of the membership."
The session will be held at 2pm Eastern/NYC Time and is open to members only. Please contact your DPAA representative or info@dpaaglobal.com for more details.
The session will feature real world cases from retailers and brands on how to set up in-store retail networks, building different monetization models, and increasing advertising and merchandising campaigns while enhancing the shopper experience.