Adrian J Cotterill, Editor-in-Chief
Vistar Media announced this week the addition of Clear Channel UK, one of the largest OOH media owners in Europe, to the robust network of digital Out of Home inventory programmatically available via Vistar's marketplace.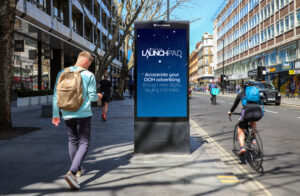 Media buyers can now access Clear Channel's 4,000+ DOOH screens in the UK via Clear Channel LaunchPAD. Clear Channel LaunchPAD is a pan-European advertising platform offering programmatic, automated, and direct buying channels, through supply-side platform (SSP) partners, now including Vistar.
"We're excited to officially integrate Clear Channel UK's high-impact digital inventory across the Vistar marketplace for buyers to take advantage of," said Matthew Cox, Director of Supply, EMEA at Vistar Media. "As Vistar continues to invest in the adoption of programmatic DOOH across Europe, we're confident this partnership with Clear Channel, one of the leading OOH media owners in the UK, will deliver immense value for advertisers looking to activate campaigns programmatically."
Clear Channel's premium network spans a variety of environments including roadside, supermarkets, high streets and shopping malls, all of which are now available to all buying platforms connected to the Vistar SSP. By leveraging the Vistar SSP, advertisers gain access to a suite of tools to manage programmatic transactions and connect inventory to omnichannel buying platforms as well as the Vistar demand-side platform (DSP).
"Our collaboration with Vistar is a part of our strategic plan to boost DOOH growth. We want to attract fresh advertisers to OOH while offering both new and existing advertisers the convenience and adaptability they desire when it comes to campaign planning," says Dom Dunne, Programmatic Commercial Lead at Clear Channel Europe. "With access to thousands of public screens, real-time campaign control and trigger-based buying, we're confident that this expansion will provide advertisers with even more opportunities when it comes to their omnichannel campaigns."