Adrian J Cotterill, Editor-in-Chief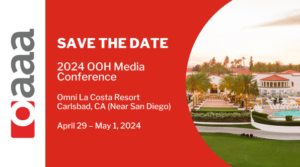 The 2024 OOH Media Conference will take place Monday April 29 to Wednesday May 1 at the Omni La Costa Resort in San Diego.
The OAAA will be sharing additional details in the upcoming weeks and months.
You can stay tuned for more details on speakers, sessions, and registration details here.